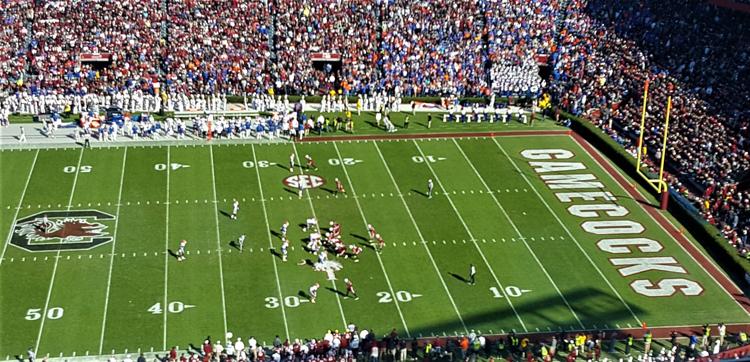 Will USC exact revenge upon Florida for a 2012 loss?
On Oct. 13, 2012, No. 3 South Carolina went down to LSU- to play in Death Valley, at night.
The Tigers were ranked No. 9, but were a three point favorite over undefeated USC. LSU won the game 23-14. The favorite was LSU playing at night in Baton Rouge. Not many teams can beat them there.
With Marcus Lattimore, Jadaveon Clowney and Connor Shaw, it was one of USC's best teams under Steve Spurrier. Earlier in the season, USC throttled Georgia 35-7. It was an impressive performance. 
If the Gamecocks could have gotten by the Tigers, it could have been a magical year. But the loss left USC emotionally and physically drained.
In the end, USC lost two games in 2012. While the LSU loss was a tough one, the week after was one that may stick in the crawl of many Gamecock fans. USC next played at Florida, on Oct. 20. The Gators were coached by Will Muschamp.
South Carolina never got out of the gate. Four early USC turnovers set the tone. The Gamecocks seemed out of it mentally and lost the game by a score of 44-11. Did LSU, in effect, beat South Carolina two weeks in a row. 
Fast-forward to 2019. This time it's Florida coming to Columbia on Oct. 19. Florida was ranked in the top 10, just as LSU. And just like USC in 2012, the Tigers beat the Gators on a Saturday night in Death Valley. The score was 42-28.
While Florida comes in after a hard-fought contest in Death Valley that resulted in a loss, USC is riding high, after a huge confidence-building 20-17 overtime victory over No. 3 Georgia.
There is a difference. Florida was a Top 5 team when it defeated USC in 2012. The Gamecocks still have a lot to prove. USC head coach Will Muschamp should know a little about beating a team coming off a debilitating loss.  
Can USC pull off another big upset. It's possible. And if you believe in evening the score, the Gamecocks should be due a favor from Florida for a game played seven years ago, almost to the day.