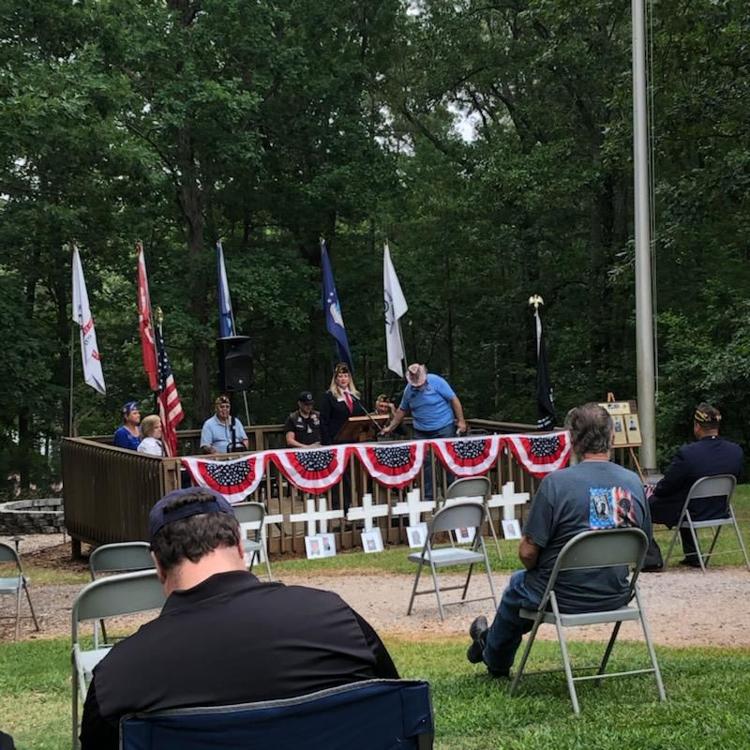 Veterans, family and friends gathered Monday at Veterans of Foreign Wars Post 6740 Lake Murray, to support the post's annual Memorial Day ceremony. The ceremony began at 10 a.m. and was run by post Commander and US Army veteran, Ginger Graham. Graham has just begun her second year as the first female commander of post 6740.
Graham commented on the importance of the event, while expressing understanding for some not attending due to the COVID-19 pandemic.
"We are so lucky to have so many people attend the event this year. We did not expect a big turn out, yet the community surprised us and while keeping a safe distance, we honored our fallen comrades," said Graham.
VFW post 6740 also paid their respects to 14 post members, and one auxiliary member, who have passed away since last year's event. One member recognized was former post chaplain and US Army veteran, Pete Chavis, who passed away in a motorcycle accident in March.
State Senator Katrina Shealy, and 94.3 The Dude's Soldier Salute host, Ethan Gardner, were guest speakers at the event.
Senator Shealy, who is a member of VFW post 6740, said she was honored to attend. In the spirit of remembrance and sacrifice, Shealy quoted a letter that President Abraham Lincoln wrote to a grieving mother during the Civil War, who had lost all five of her sons.
"I pray that our Heavenly Father may assuage the anguish of your bereavement, and leave you only the cherished memory of the loved and lost, and the solemn pride that must be yours to have laid so costly a sacrifice upon the altar of freedom," the letter read. Senator Shealy said veterans hold a special place in her heart, as her father served in the United States Marine Corps.
Also attending the ceremony were the American Infidels Veterans Motorcycle Club, South Carolina Chapter. The motorcycle club members are all VFW supporters and pride themselves on preserving and remembering the legacy of veterans who have come before them. The club led a motorcycle ride at the close of the ceremony to Fort Jackson National Cemetery, to walk the grounds and pay their respects.