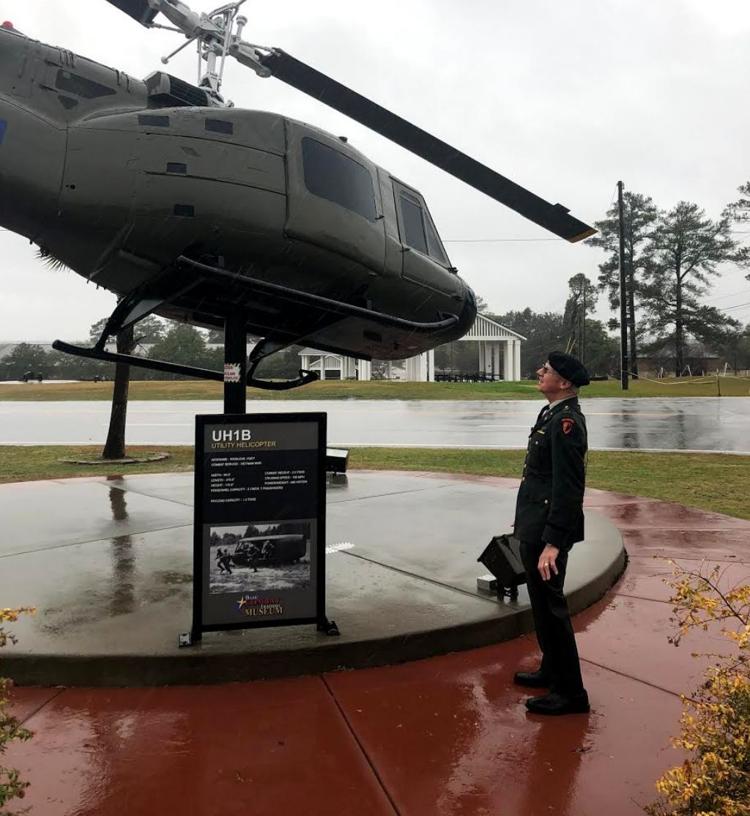 An out of state guest visited the Fort Jackson Museum for the chance to view one particular piece of history. Warrant Officer-2 Fredrick McCarthy, from Seattle, is a Vietnam veteran and helicopter pilot who flew over 1,000 hours of combat missions from 1967 to 1968.
At the entrance to the museum sits a familiar friend to McCarthy. A helicopter, Huey Model B Viking Gunship. On the helicopter is the serial number- 73972 and is the very same gunship that McCarthy flew in the war more than 50 years ago. Of the 11,827 Huey helicopters in the Vietnam war, 5,086 were destroyed.
When asked what seeing this helicopter meant to him, McCarthy quickly responded. "Its like seeing an old girlfriend. In the military we refer to boats, planes and choppers as 'her's, so I think I'm going to write an article titled 'Date with an old girlfriend from fifty years ago,' when I get home," he said.
McCarthy's tour went from December of 1967 to December of 1968. He was only 20 years old when he arrived in Vietnam. He began his tour as a transport pilot before being selected to fly Gunships. "It was kind of a fraternity, they picked the best pilots to be in Gunships and I was very honored to have been selected," he said. McCarthy's unit was the 121st Assault Helicopter Company, known as the "Soc Trang Tigers." It was a highly decorated unit of pilots whose history dates back to 1936.
McCarthy's unit was not unscathed by the hardships of war. Nine crewmen in his company lost their lives during his time in Vietnam. He commemorates them every chance he gets with a modified Pledge of Allegiance, adding their names after every line. "It's not really about me being here today, it's about this helicopter and the people who did not live fifty more years like I did," he explained.
During McCarthy's interview at the museum, he paused to apologize for his shaky legs. McCarthy suffers from peripheral neuropathy, a side effect of prolonged exposure to the infamous Agent Orange: a chemical compound used during the Vietnam war. It is estimated that more than four million troops were exposed to Agent Orange.
When asked if given the choice to do it all again, he replied, "Absolutely! I'm very proud of my service."
Unit History Link- Soc Trang Tigers