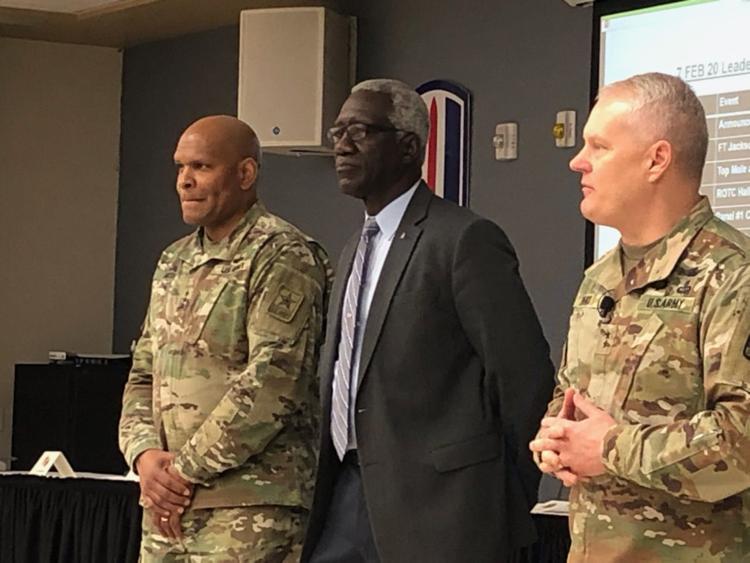 Fort Jackson hosted a Leader Development Symposium Friday. The event brought senior Army leaders together to focus on mentoring ROTC cadets from 10 North Carolina and South Carolina colleges and universities. Along with speed mentoring, discussion panels and other activities, the event hosted multiple US Army generals, in an effort to inspire future leaders and young ROTC cadets to continue down the path of service.
Two Army generals were inducted into the Army ROTC Hall of Fame, with more than 100 cadets in attendance to observe the ceremony. The ROTC Hall of Fame is for past ROTC graduates who have gone on to "distinguish themselves in military or civilian pursuits," according to the Fort Jacksons Public Affairs office.
Lieutenant General Leslie C. "Les" Smith and Major General Abraham J. Turner both served more than 20 years in the United States Army, and General Smith continues to serve as the Inspector General with the Office of the Secretary of the U.S. Army at the Pentagon. In his position, Lt. Gen. Smith works directly for the Secretary of the Army and is responsible for overseeing inspections, investigations and assistance for more than 1.2 million soldiers and Army civilians.
Smith discussed the significance and importance of mentoring the future leaders of the Army:
"My goal is aspirational leadership. We can either be reactionary or project what we want. So if our goal is to be at this level, then our goal is to teach our leaders to be at that level... Each generation stands up to do there part, so now it's their turn (ROTC cadets) to do their part... When it comes to these cadets, they are the leaders of the future today, not tomorrow," said Smith.
Smith began his career as an artilleryman, who are commonly known as "The Kings of Battle," in the military and veteran community.
Cadet Command Commander, Major General John R. Evans Jr. added to the importance of the mentoring of future leaders. "ROTC commissions about 65 percent of our active force," he said. "US Army ROTC is the largest commissioning source in the DOD... These young men and women have made a decision to serve their country and have done so voluntarily, and in time of conflict... They are raising their hand and saying 'I will serve, send me,' and I think that's a pretty remarkable thing about this generation."