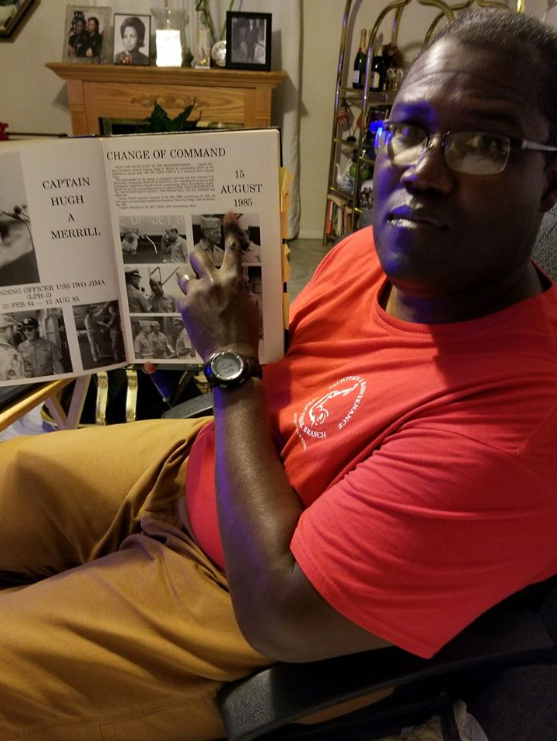 Veteran Lennox Barton first joined the United States Marine Corps in 1983 and served through 2011. 
He was working on a VA benefits claim Jan. 11. It required him to present his military records and documents from over the years. Barton placed the documents in a computer bag, along with a 1985 USMC yearbook.
Barton said he parked his truck in the Double Tree hotel parking lot on Bush River Road, where he and other coworkers participate in a ride share service that takes them to work. While his truck was parked in the lot, he said his vehicle was broken into.
"It just so happened when my coworkers were coming into the next shift and leaving their vehicles. My coworker said he saw somebody getting into my truck," said Barton.
According to Barton's retelling of the witness' account, a male and female were seen inside his truck. The witness approached the vehicle and confronted them, when the male claimed the truck belonged to him. When the witness stated he knew the truck belonged to Barton, the couple quickly got back into their own vehicle, and left the scene.
Barton said a pair of earbuds, his set of keys, and the computer bag were all stolen. He filed a police report on-scene. "What they must have done is jimmied my truck," Barton said. "It's an old '95 truck. We always keep our vehicles locked."
Barton said he doesn't care about the keys or the earbuds. However, he said the other documents and the yearbook are irreplaceable. "It wasn't a computer in that bag, even though it looked like that was what they were getting, it wasn't," he said.
The message Barton wishes to convey to the suspects is that he just wants his records and yearbook back. "I don't want no harm to come to them," he said. "All I want is my stuff – my records. All I can say is, I'd be very grateful and appreciative if they can take it anywhere – the Double Tree, the Sheriff's Department – and drop it off. That book is irreplaceable, that I know of."
Anyone who may find the records, or know any information related to the incident, is asked to call the Lexington County Sheriff's Department (803-785-8230).
Capt. Adam Myrick of the Lexington County Sheriff's Department wants to remind everyone to never leave any visible items inside a parked vehicle, whether it's in a hotel parking lot, the mall, or even in a driveway.