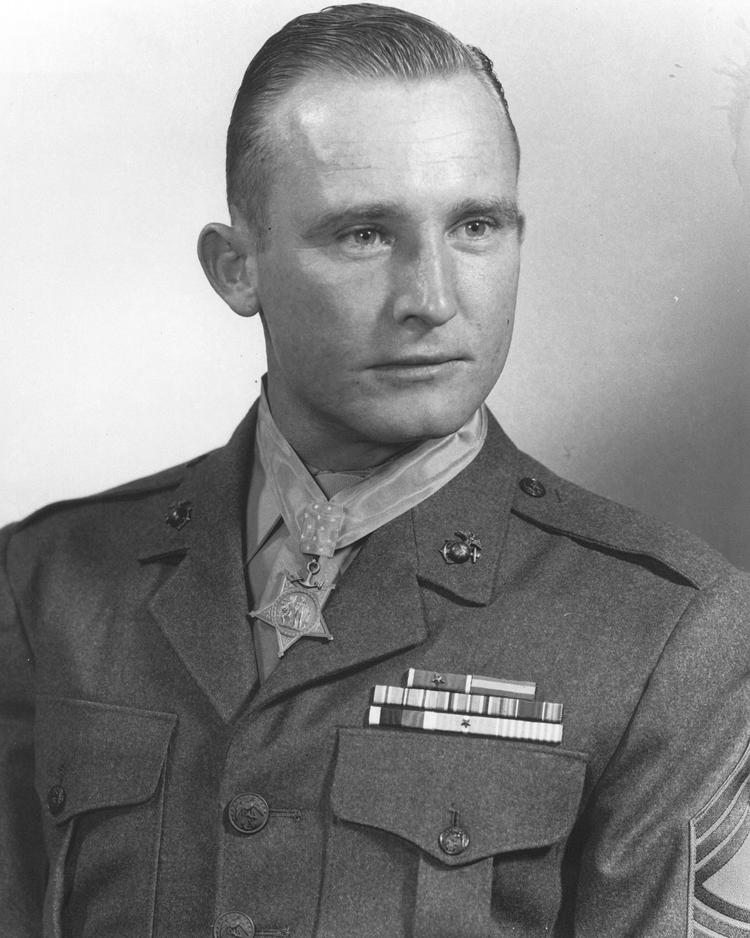 The Lexington Marine Corps League gathered Saturday morning at the grave of Medal of Honor recipient Harold "Speedy" Wilson, at Woodridge Memorial Park off Corley Mill Road in Lexington. The event is an annual tradition put on by the Marine Corps League, and is meant to honor Wilson's last wish of coming together at his grave every Memorial day weekend, to enjoy a cold beer and tell his story.
"Many of us knew Speedy, and we made a promise to him that we would visit him and have a beer with him every year. We are honored and proud to do this," said Commandant of the Lexington Marine Corps League, retired Master Sergeant Beulah Scott.
Also in attendance were the Scouts of America troop 307, Saxe Gotha Presbyterian Church. At the close of the ceremony, the troop spent a few hours placing flags on veterans' graves.
Wilson's sons, John and Harold Wilson Jr., were also in attendance. John Wilson, a retired US Army veteran, spoke highly of his father and said he was an honorable and quiet man. John explained that his father "never wanted the spotlight or fame" for his actions in Korea.
Technical Sergeant Harold "Speedy" Wilson earned the Medal of Honor for heroism and actions from April 23 and 24, 1951. 
When Wilson's outpost was overrun by enemy forces, and under intense enemy machine gun and mortar fire, he assisted survivors back to friendly lines and resupplied ammunition to the front. After being shot twice, he refused medical attention and continued to resupply his men, shouting words of encouragement and turning the tide of the battle. He sustained several more injuries from mortar fire, and unable to use either of his arms, again refused medical attention and continued resupplying his men. Only after the battle was over, and victory was assured, he walked a half mile, unassisted, and finally submitted himself to medical treatment. Wilson passed away March 29, 1998, of cancer.
Speedy's full citation can be read here: