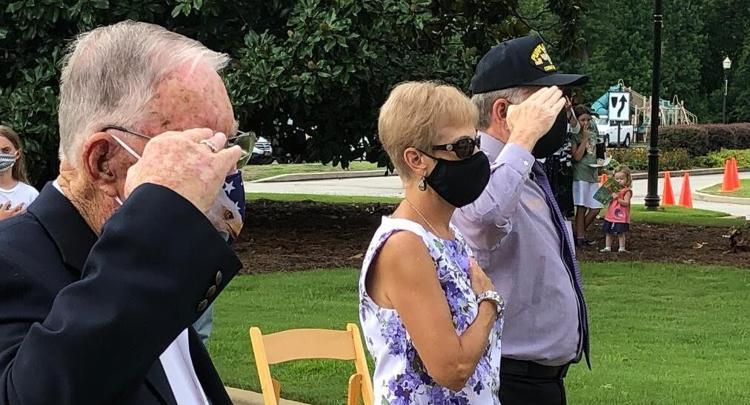 It was just two days before Christmas when Navy corpsman Frank Kmetz was out on a routine patrol in Vietnam — until he was sent flying through the air by a mine explosion.
Kmetz's injuries that day led to a medical discharge after almost four years of service, and eventually to a Purple Heart award. Decades later, he and his wife, Debra, were among other former service members honored at Blythewood's first Purple Heart Day event.
"It's nice to be recognized," said Kmetz, a Chicago native who settled more than 40 years ago in Elgin. "No one ever said 'thank you.'"
"No one joins the military to be a killer," he added. "We did our job, and we're just thankful to be alive."
The Purple Heart is the oldest U.S. military decoration, created by George Washington on Aug. 7, 1782. It's awarded to any service member wounded or killed in defense of our country or during acts of terrorism. In 1982, President Ronald Reagan proclaimed the first full week of August as Purple Heart Week, and Aug. 7 as Purple Heart Day.
Area residents, bolstered by a Buffalo Soldier motorcycle contingent from Spartanburg, commemorated the day Friday by gathering in front of Town Hall just inside Doko Park. The celebration included the national anthem played by a trumpet trio from Freeway Music School, the unveiling of new Purple Heart Town signage that will be placed around Blythewood, and the reading of a mayoral proclamation declaring Aug. 7 as Purple Heart Day in Blythewood.
Attendees also heard from Recent Purple Heart recipient Command Sgt. Maj. (retired) Carl Lopez and Fort Jackson Commander Brig. Gen. Milford Beagle. Beagle is a South Carolina native from Enoree with a family history at Fort Jackson: His great-grandfather entered the training base 100 years ago as a private in World War I.
"There's one military honor no service member really wants to earn. That's the Purple Heart," Beagle said. "Thank you, Blythewood, for demonstrating you understand and you care. We judge ourselves by our intentions, but others judge us by our actions. Thank you for making your audio and video match."