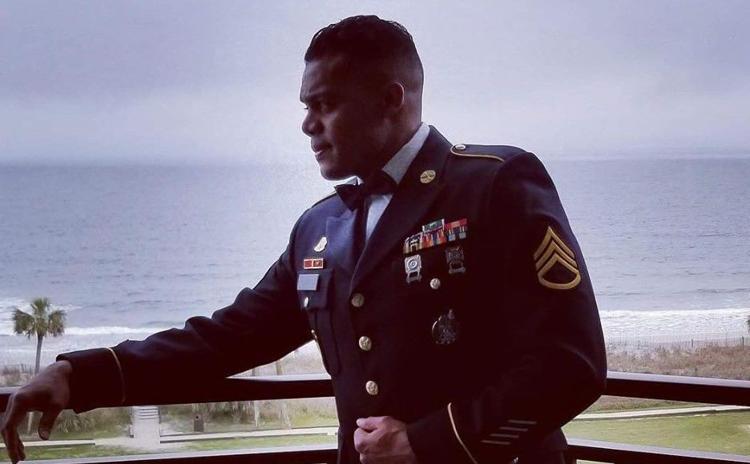 Staff Sergeant Christoper Carrington is a US Army Recruiter at the Lexington Recruiting Station. He is originally from Houston, but joined the Army out of Miami. His career of 15 years, as of April 1, has taken him across the globe from Fort Sill, Oklahoma, to Iraq, Hawaii and Korea.
Carrington began his career as a 13-Juliet, or Fire Direction Controller, in the artillery field. Recently, he made the switch to becoming a full-time recruiter. "I enjoy telling people what the Army has done for me in my life, because the organization can do the same for them if they give it a chance," said Carrington.
Life as an artilleryman has its ups and downs. The title "The Kings of Battle," is earned through the hard work and dedication of the men and women of the field. "Employing the weapon system, mathematics, trajectory, logistics, communication... there are so many different aspects of Artillery and they have to all be well prepared," Carrington said. "When they call us we answer and the Kings of Battle get called often!"
Artillery shells can reach as far as 20 kilometers away, making them a much sought-after target for enemy fighters. After graduating from artillery school, Carrington immediately got on a plane headed for Camp Taji Iraq in 2005. While landing, the plane came under enemy fire.
"I could hear rounds pinging off the side of the plane. When we landed, a few enemy rockets flew over. We sprinted for the bunkers and the reality of where I was finally hit me," he said.
A show of force is a common maneuver the military uses to deter other nations from making drastic decisions to threaten the well being of service members. When North Korea began shooting rockets off the coast in 2017 as a show of force, Carrington and his men responded. Orders came down from the White House to fire an American rocket off the coast to show the North Korean government how technologically outmatched they were.
Carrington said he was not surprised when rockets continued to fire from North Korea. "We expected them to continue firing rockets and show their power. It still didn't phase us. We knew it was all just a show."
Learn more about Carrington at 943TheDude.com/soldiersalute.