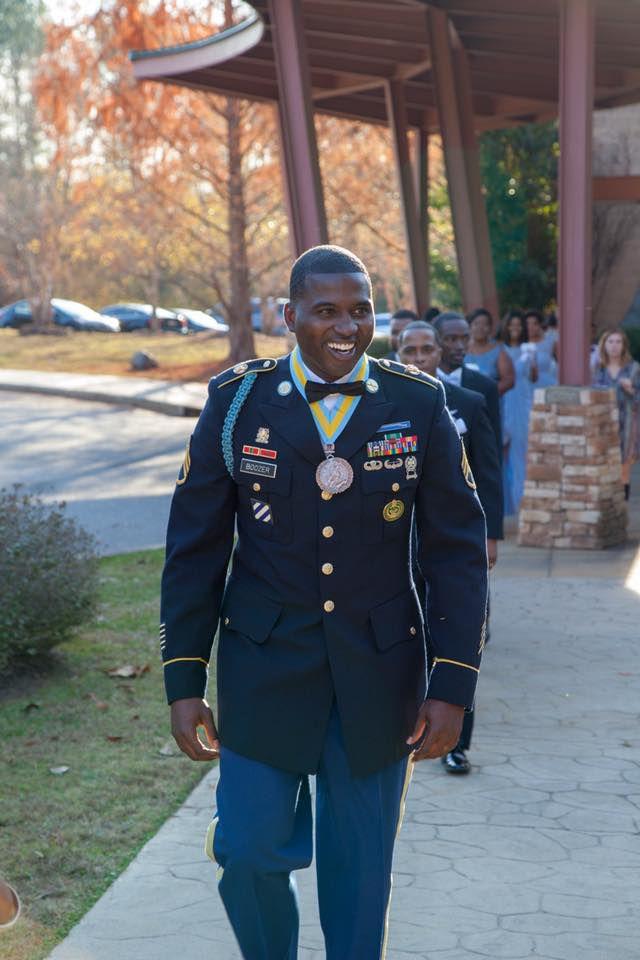 Sgt. First Class Maurice Boozer Sr. has served 16 years in the US Army.
"I truly love the Army. It's more than the job, it's the people. I'd jump in front of a bullet for these people. You just can't find that anywhere else," he explained. Boozer's accomplishments include becoming a Drill Sergeant as well as a Drill Sergeant Leader and instructor.
Boozer also loves to cook, and set up a large feast for Mother's Day last week, serving his mother and mother-in-law.
His entrance into the military was fast. A week after completing boot camp and arriving at Fort Carson, Colorado, his unit left for Iraq. Boozer stayed back for a three week train-up before meeting up with his unit in Iraq.
One of Boozer's combat deployments was to the infamous Ramadi, Iraq, in 2010. The deployment would heavily affect Boozer's mental health, and after returning, he was diagnosed with Post Traumatic Stress. Boozer noticed 'triggers' that would send him into an episode.
"For any vets with PTSD, you got to figure out what your triggers are, recognize it, and keep that. You can then keep yourself out of situations that may not be best for you," he explained.
An unexpected career seems to be in the near future for Boozer. He was given an incredible opportunity last year to take on a military advisor role for the upcoming movie Cherry, which is being produced by the Russo brothers. The Russos are responsible for films like Avengers: End Game, Avengers: Infinity War and the new popular Netflix movie, Extraction.
Boozer's initial job was to ensure the movie accurately depicted the life and role of a young soldier entering US Army boot camp. After being caught on tape in action, the Russo brothers offered him the lead Drill Sergeant role in the movie.
"I couldn't believe it. I called my wife and said 'babe our lives just changed,'" he said.
Boozer is a high octane individual with no desire to slow down. He has already used his connections in the film industry to start his own military TV show. "After 16 years in the Army, they have backed me in this endeavor and will be providing me with some vehicles and helicopters for the show. I'm just so grateful to the Army for giving back to me, tenfold what I have given them."
Boozer intends to use his position to help other veterans seeking roles in the arts, as well as working closely with local nonprofits throughout his new career.