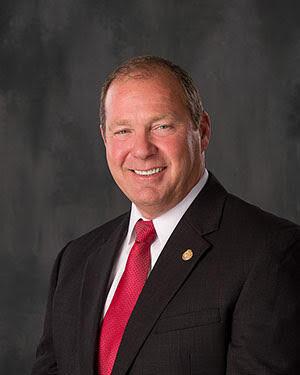 West Columbia Police Chief Dennis Tyndall notified the public Wednesday that he has decided to retire after 37 years of service to the department. He will remain working during the search for the new police chief. 
According to WCPD, Tyndall began his career with the City in 1984 as a patrolman, and worked his way up through the ranks to become the chief in 1997. He is the longest-serving police chief for West Columbia, and is responsible for bringing the department into the 21st century by integrating technology that had not yet been used by other departments in the state. 
Over the years, Tyndall has achieved many awards and been recognized for multiple accomplishments:
1989 - Law Enforcement Officer of the Year Award, Cayce West Columbia Optimist Club
1995 - FBI National Academy Graduate, Session 183
1995 - President of the Lexington County Law Enforcement Officers Association
2004 - Sworn in as a US Deputy Marshal for the Operation Intercept Joint Fugitive Task Force
2007 - Municipal Achievement Award, Municipal Association of South Carolina
2007 - Santee Cooper Award of Excellence
2008 - Founded West Columbia Police Officers Foundation
2008 - Law Enforcement Officer of the Year, South Carolina Law Enforcement Officers Association
2008 - Alltel Crime Prevention Award, South Carolina Law Enforcement Officers Association
2008 - Recognized by Harvard University's ASH INSTITUTE for Democratic Governance and Innovation for the top 50 Most Innovative Police Departments in the United States of America
2009 - Strom Thurmond Award for Excellence in Law Enforcement
Tyndall is an active member of the FBI National Academy Associates, Lexington County Law Enforcement Officers Association (Life Member), South Carolina Police Chiefs Association, South Carolina Law Enforcement Officers Association, and the International Association of Chiefs of Police (Life Member). He currently serves on the Lexington County Narcotics Enforcement Team (Board Member) and the West Columbia Police Officers Foundation (Founder & Board Member). 
He said serving the City of West Columbia as police chief for 24 years has been one of the most rewarding experiences of his life.
"It has been an honor to lead one of the best groups of professional law enforcement officers and staff in the state of South Carolina. After 37 years of service with the police department, it is time to allow someone else the opportunity to serve as chief with such a great forward-thinking City. The leadership of this City's Mayor, City Council, and City Administrator has always valued good law enforcement and recognizes the challenges we face to keep our community safe while maintaining high standards and mutual respect between our police department and the community we serve. I look forward to assisting the City during the transitional process as they bring on a new chief," he said. 
Mayor Tem Miles said Tyndall has been an exemplary officer, and chief. "He has set the standard and provided the leadership that has made our police department the great, professional department it is. I am thankful for every day that he has served our community and even more thankful that he will be available to assist the City with the transition to our next chief. I congratulate him on his retirement and wish him the best of life and luck to come," said Miles.
City Administrator Brian Carter said he's seen firsthand the dedication and service Tyndall has given to the city, when Carter began his career in West Columbia working as a police officer.
"His leadership and commitment will be missed, but we congratulate him on this next chapter of his life. Chief Tyndall has dedicated his life to the City of West Columbia and our Police Department is better for it," said Carter.