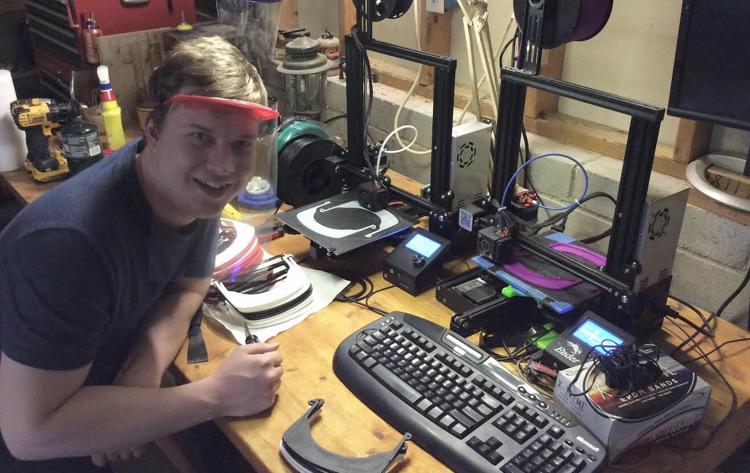 Eddie Noyes decided to take items he already had at his house and put them to use for the greater good amid the COVID-19 crisis.
The 27-year-old West Columbia resident came across a post on social media where he learned about large groups of people running "farms" of 3D printers, creating needed items from face masks to ventilators.
Noyes already owned two 3D printers, but said he had never used them for anything that significant. "Most of the stuff I print has been useless, they've been silly models. I've printed very few things that have been actually useful to somebody," he said.
Noyes felt the face shield model looked simple enough that he could create it. "The idea is, you print the headband that attaches the front shield to the head, then you use a rubber band to connect the two back pieces," he explained. Noyes bought overhead projector sheets to be used as the shield, and attaches them to the head piece with hot glue. "Overhead transparencies are like $12 off Amazon. I asked my roommate if he had a box of rubber bands, and he gave me one with 175, so I was good," he said.
Each head piece takes about an hour and a half to print, and Noyes runs both 3D printers at the same time. His goal is to create 100 face shields for essential employees working with the public. He has finished 50 so far.
Noyes is aware of some national organizations that would accept his donation, but would really prefer to donate them to an organization or business within the Midlands. He is welcoming any essential business with a need for the masks to email him at eddienoyes388@gmail.com.
"It started out as it made me personally feel better and I thought, if I'm doing this then surely there are others doing this too, like we're all going to be okay," Noyes said. "Even if the overall impact is small, I thought maybe it's something that'll make people feel better, on a mental level."