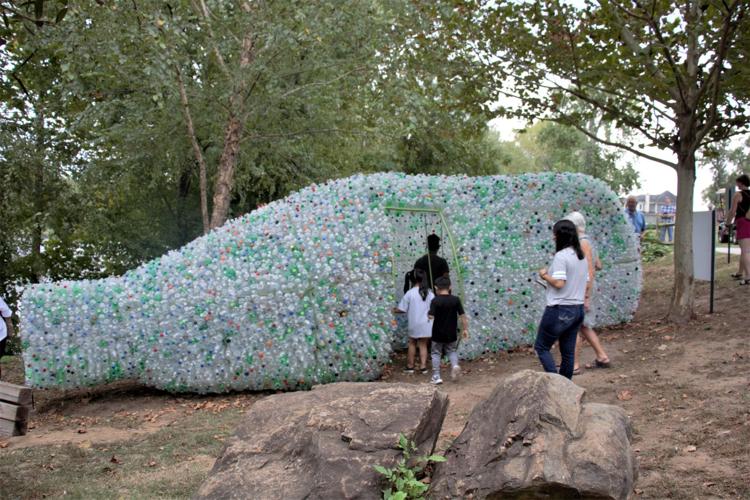 Sometimes the meaning or purpose of a work of art is mysterious, or open to the interpretation of each person who sees it. West Columbia's newest installation, however, sends a very clear message.
"To be consumed by that which you consume: that's what this is about," said local artist Karl Larsen, whose newest work, "3 Seconds and Counting," was unveiled Friday at the West Columbia Riverwalk. "We need to see our litter. By scaling up a common single use plastic bottle, I wanted to do just that."
Larsen collected nearly 12,000 single-use plastic bottles and sculpted them into the shape of a single bottle, 9 ½ feet in diameter and with an open space and a bench inside. He hopes the work of art will remind all who see it of the importance of reducing plastic waste.
"My hope for this project is for it to allow us to rethink how we consume, for it to spark conversation and harbor collaboration in efforts to curb or eliminate single use convenience based plastic products and packaging from our lives for a cleaner future for generations to come," Larsen said. "We must take personal responsibility for what we purchase. We must look at our consumption in a new way, because this out of sight out of mind attitude we have about our waste over the last five decades is what got us here."
The unveiling was followed by the first of the fall series of Rhythm on the River concerts, presented free to all and organized by the city of West Columbia and the Greater Cayce West Columbia Chamber of Commerce. That series continues through Oct. 25, and details are available at cwcchamber.com.
Larsen's sculpture will remain on display near the Riverwalk Amphitheater. Its title, "3 Seconds and Counting," reflects the fact that 12,000 bottles, the approximate amount of plastic bottles used, are thrown away in the United States every three seconds.