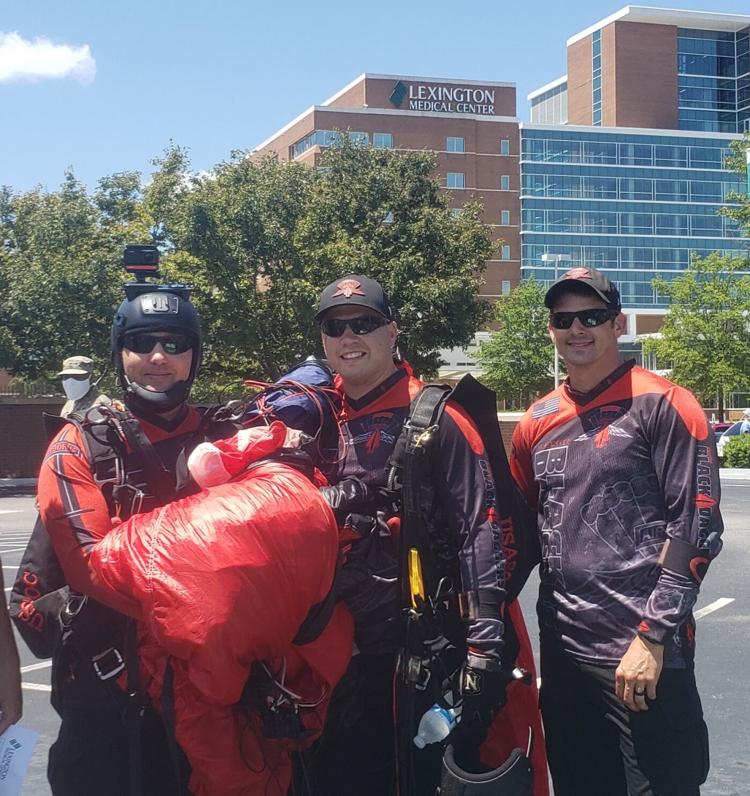 The US Army Black Daggers parachute team performed a jump onto the grounds of Lexington Medical Center Tuesday afternoon. The team completed the action in an effort to show support to hospital personnel fighting the COVID-19 pandemic.
Three parachutists jumped at 1 p.m. from a height of 8,000 ft., with a free fall of two minutes at approximately 120 mph. A crowd of about 200 hospital employees and spectators attended the event.
The Black Daggers are the US Army's official Special Forces Parachute Demonstration Team. Members of the team come from all different aspects of the US Army's Special Operations Command, like the 75th Ranger Regiment and the Green Berets. The teams conduct jumps around the United States as a part of community outreach and recruiting efforts.
One of the senior enlisted leaders of the team, Green Beret SFC Robert Evans, said they enjoy what they do. "We get a lot of fulfillment out of doing this. We just want to show our appreciation to all the health care workers and all the people who are pitching in to fight COVID right now," he said.
The third jumper flew the American Flag as he landed. SFC Evans was there to grab the flag, ensuring it would not touch the ground.
Jennifer Wilson, public relations manager at Lexington Medical Center, expressed her gratitude for the team's visit. "Lexington Medical Center is very grateful for all the support the hospital has received during the COVID-19 pandemic as we work to take care of our community, and this was such a special treat to have these Army parachute jumpers pay a visit to our hospital and say thank you as well," she said.
More information on the Black Daggers can be found at soc.mil/blackdaggers/blackdaggers.html