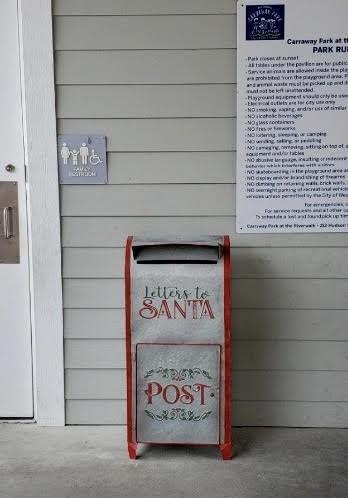 The City of West Columbia has recently installed an important new mailbox for the holiday season.
Residents will be able to find Santa's Mailbox at Carraway Park, located at 212 Hudson St., for children to drop off their letters to Santa.
According to West Columbia officials, letters can be placed in the mailbox through Dec. 24, but a letter back from Santa is not guaranteed to arrive before Christmas if placed in the box after Dec. 15.
Santa will be choosing two letters that are in the box by Dec. 1 to be read by Mrs. Claus at the City's annual Christmas Tree Lighting Dec. 3. If a parent email is included, Sana's elves will let them know if they are the ones whose child's letter is going to be read during the event. Parents are advised to make sure their child's name, age and address is included and that their writing is legible.
There is a Letters to Santa template on the City's website if parents would like their children to use it for their letter.
The way Santa's Mailbox works (for parents' eyes only):
According to City officials, parents can choose to print a "response from Santa" template off West Columbia's website. Parents/guardians are asked to write their response as Santa and place it in a stamped envelope with a return address, and place that inside another envelope with their child's letter to drop in the box. The city will then mail the child's "letter from Santa" back to their house.
Additional information can be found at westcolumbiasc.gov/santasmailbox.
The City's annual Christmas Tree Lighting Ceremony will be held Dec. 3 at 6:30 p.m. at West Columbia City Hall (200 N. 12th St.). The program will include Christmas carols, greetings, and the lighting of the City's Christmas tree.