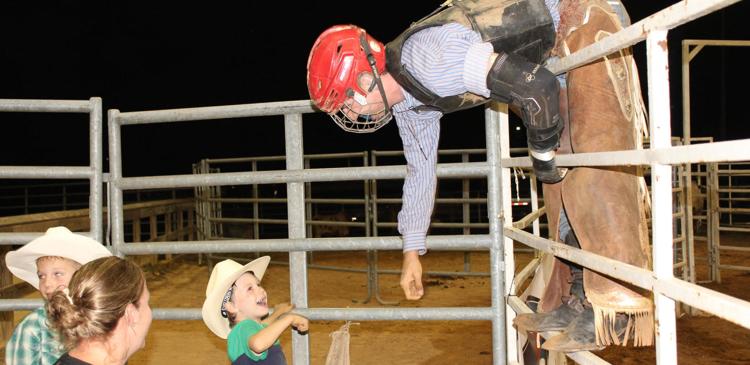 Not even COVID-19 can keep good cowboys and cowgirls down. Postponed twice this year because of the pandemic, the South Congaree Championship Rodeo made its long-awaited return Friday night, with action set to continue Saturday.
"We're just so glad to be out here. This is one of our favorite things every year and we were afraid it might get cancelled like so much other stuff did," said Jamie Ashley, who drove from Lexington to attend Friday with her family.
The rodeo is sanctioned by the International Professional Rodeo Association (IPRA), meaning some of the best anywhere are in town competing for qualifying points for the world championship. The competition includes bareback bronc riding, saddle bronc riding, steer wrestling, calf roping, steer roping, break-away roping, barrel racing and bull riding.
The South Congaree Horse Arena also offers a wide variety of vendors and activities for all ages, plus food and drinks for sale. A rodeo clown keeps the crowd entertained between competitors.
"It's just so much fun, the kids love it. It doesn't even matter if you know anything about rodeo," said Jimmy Russo.
"Everybody loves watching them try to stay on the bulls and broncs," Dani Richards agreed.
The rodeo includes hand sanitizing stations, and guests are encouraged to wear masks and to socially distance. Tickets are also limited to keep the crowd within the venue's capacity.
Gates open Saturday at 5 p.m. for day two of the South Congaree Championship Rodeo. Tickets are $18 for adults and $14 for children, and available in advance or at the door. More details are available at the rodeo's Facebook page.