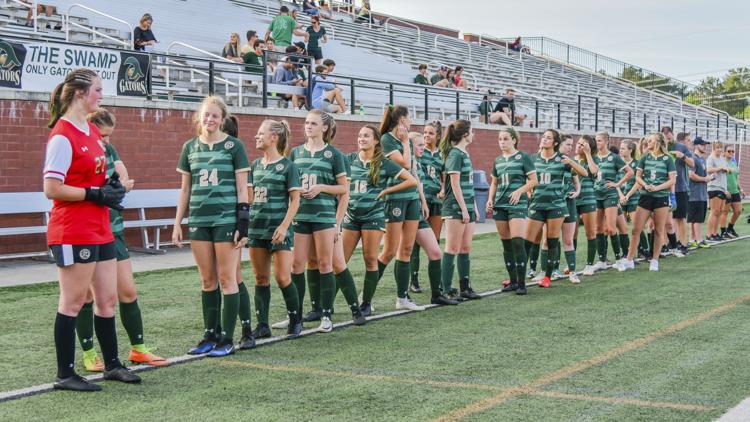 The River Bluff and A.C. Flora girls' soccer teams will open the 2020 high school soccer season number one in the preseason rankings.
The Lady Gators sit atop the S.C. High School Soccer Coaches Association Class 5A poll after going 22-1-1, winning the Region 5-5A title and advancing to the Class 5A Lower State final. Their lone loss was to state runner-up Wando.
The Lady Falcons rank first in the Class 4A rankings. They went 22-6 last year, won the Region 4-4A title and advanced to the Class 4A Upper State final where it lost to eventual state runner-up Eastside.
A total of 12 Midlands teams made the preseason ranking.
S.C. HIGH SCHOOL SOCCER COACHES ASSOCIATION 2020 PRESEASON RANKINGS
(BOYS)
Class 5A
1. Wando, 2. Dutch Fork, 3. Clover, 4. J.L. Mann, 5. Nation Ford, 6. River Bluff, 7. Mauldin, 8. Wade Hampton, 9. Socastee, 10. Rock Hill
Class 3A
1. May River, 2. Bishop England, 3. Academic Magnet, 4. Indian Land, 5. Emerald, 6. Seneca, 7. Waccamaw, 8. Pendleton, 9. Wade Hampton, 10. Gilbert
Class 2A/A
1. Oceanside Collegiate, 2. Southside Christian, 3. St. Joseph's Catholic, 4. Gray Collegiate, 5. Christ Christ Episcopal, 6. Andrew Jackson, 7. Greer Middle College, 8. Woodland, 9. Batesburg-Leesville, 10. Saluda
(GIRLS)
Class 5A
1. River Bluff, 2. Clover, 3. J.L. Mann, 4. Riverside, 5. Wando, 6. Mauldin, 7. Fort Mill, 8. Ashley Ridge, 9. James Island, 10. Blythewood
Class 4A
1. A.C. Flora, 2. Myrtle Beach, 3. Eastside, 4. Greenville, 5. Hilton Head, 6. South Aiken, 7. North Augusta, 8. Aiken, 9. Airport, 10. Daniel
Class 3A
1. Bishop England, 2. Academic Magnet, 3. May River, 4. Powdersville, 5. Woodruff, 6. Indian Land, 7. Broome, 8. Swansea, 9. Waccamaw, 10. West-Oak
Class 2A/A
1. St. Joseph's Catholic, 2. Southside Christian, 3. Christ Church Episcopal, 4. Oceanside Collegiate, 5. Barnwell, 6. Buford, 7. Fox Creek, 8. Batesburg-Leesville, 9. Gray Collegiate, 10. Andrew Jackson