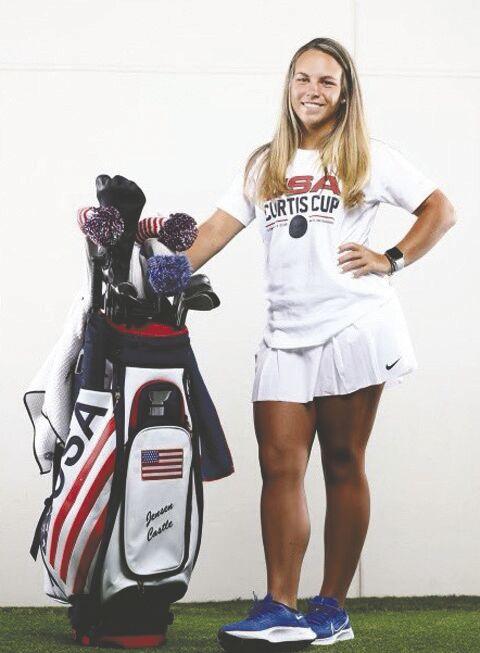 More than two weeks have passed since West Columbia native Jensen Castle captured the US Women's Amateur.
Despite a nagging rib injury, the University of Kentucky junior and Gray Collegiate Academy graduate overcame a 63rd ranking out of 64 players to emerge as the second Palmetto State winner of the Robert Cox trophy.
"It's still not real to me," said Jensen during a Zoom press conference on Aug. 11. "You can call me all these names and a champion and it's just not real. I mean, it's been a dream. To make history as the first UK golfer is awesome. I mean, I'm sure I'm not going to be the last. But, just to represent Kentucky and to be the second golfer from South Carolina (to win) means a lot. South Carolina is home for me and just to make South Carolina proud and Kentucky it's a special feeling."
Castle's performance created a ripple effect on the Women's World Amateur Golf rankings. The two-time state individual golf champion at White Knoll and Gray Collegiate leapfrogged 97 places from 248th to 151st following her US Women's Amateur victory. The latest WAGR rating has Jensen at 150th.
In addition, Castle added to her long list of tournament exemptions earned from the US Women's Amateur victory when she received one from the LPGA's Cognizant Founders Cup. She accepted the invitation and plans to play in the Oct. 6 through 10 tournament at historic Mountain Ridge Country Club in West Caldwell, New Jersey.
The Cognizant Founders Cup, which debuted in 2011, pays tribute to the 13 founding members of the LPGA. The tournament has a $3 million purse, making it the largest LPGA Tour event outside the majors and the CME Group Tour Championship.
Castle also has an exemption for the next 10 US Women's Amateurs, this year's Women's British Open (she declined due to a scheduling conflict) and next year's Augusta National Women's Amateur and US Women's Open.
Up next for Castle is competing with the US Curtis Cup team starting Thursday at Conway Golf Club in North Wales versus Great Britain and Ireland.