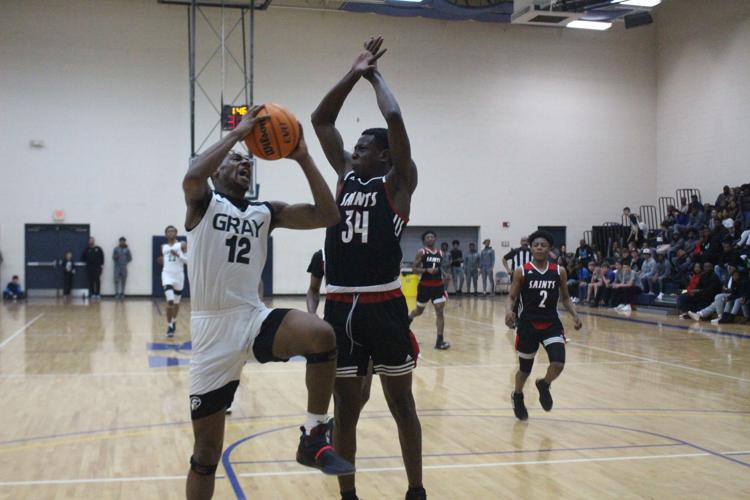 Since losing to Columbia on Jan. 10, top-ranked Gray Collegiate has gone relatively unchallenged during an eight-game winning streak.
Friday at Allen University, 10th ranked Calhoun County gave the defending two-time Class 2A champions their toughest game in nearly a month. The Saints had an early lead and got a game-high 26 points from Russell Brunson Jr.
Midway in the second quarter, Gray Collegiate reasserted itself to take control of the game. A dominating third quarter proved more than enough to hold off Calhoun County 70-54.
The ninth-straight win also clinched a fourth consecutive Region 3-2A title for the War Eagles. Tauris Watson had 17 points to lead Gray Collegiate (19-6, 6-1).
"Tonight, it looked like we fell back to sleep in the first half," Gray Collegiate head coach Dion Bethea said. "But, our guys responded in the second half, came out and kind of put it together from a defensive standpoint because we were giving up a lot of easy buckets. But that's a credit to Calhoun County."
Calhoun County (17-6, 5-2) led 15-10 at the end of the first quarter. The Saints extended it to seven points as Chris Mickell scored eight of his 16 points in the second quarter.
An 11-0 run sparked by Chris McDuffie pushed the War Eagles' ahead 24-20. He scored nine points in the second quarter and finished with 15.
Calhoun County closed the gap to 30-27 at halftime. Gray Collegiate then opened the second half with 15 unanswered points to push its lead to 45-30 with 3:39 left in the third quarter.
Latavian Lawrence outscored the Saints in the third quarter with 10 of his 12 points. Watson added eight points as the War Eagles used their height advantage to outscore Calhoun County 28-6 and take a 58-33 lead into the fourth quarter.
"When you've got great assistant coaches that help you make adjustments, we made some adjustments defensively in the second half," Bethea said. "We had to make sure we dominated the rebounds and I think we did that."
The Saints outscored Gray Collegiate 21-12 in the fourth quarter. Brunson accounted for 14 points as Calhoun County closed the gap to within 11 points and snapped a streak of 5 games in which Gray Collegiate won by 30 or more points.
The War Eagles close out the regular season Tuesday at Eau Claire, while Calhoun County plays host to C.A. Johnson.
"I still that think we haven't seen our best basketball and I think the best is yet to come," Bethea said.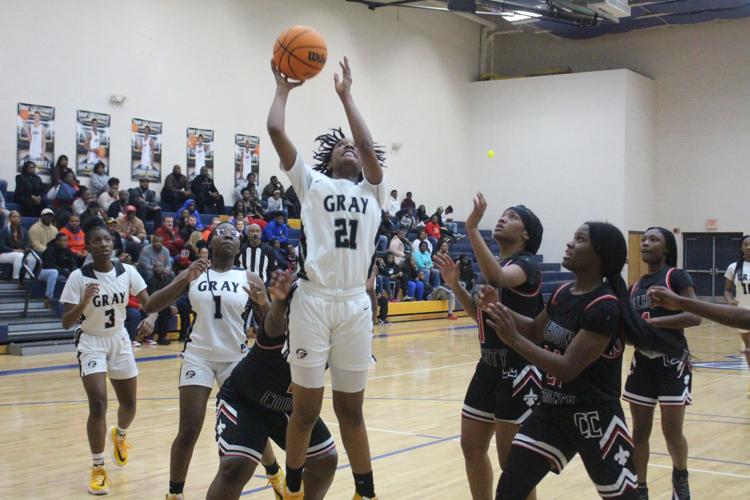 GIRLS BASKETBALL
Gray Collegiate 48, Calhoun County 30
Senior Truth Doctor scored 15 points and Aaliyah Lawrence added 13 as the Lady War Eagles (5-16, 3-4) improved their post-season hopes.
Akirea Pabai scored nine points and Shy'an Cokley added 8 for Calhoun County (7-11, 5-2). The loss dropped the Lady Saints into a 1st place tie with C.A. Johnson.
The two teams will play for the Region 3-2A title on Tuesday in St. Matthews.