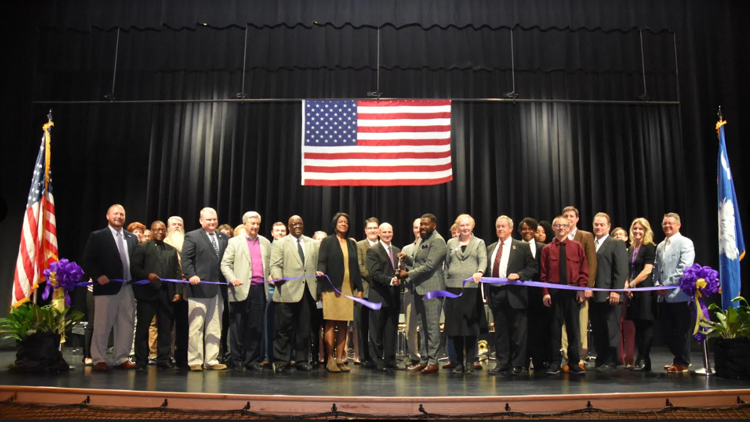 Hundreds of community members gathered at Swansea High School Sunday for an open house and ribbon cutting to represent the completion of Swanea Performing Arts Center, and athletics renovations at the school. The celebration was held in the new 1,200 seat auditorium.
The event began with a performance from the Swansea High Jazz Band, followed by Student Body President Abigail Krasselt who welcomed the crowd. Board Chair Quincy Sutton voiced his excitement for the community, and Greater Cayce-West Columbia Chamber Executive Director Richard Skipper thanked attendees before the ribbon was cut.
Residents of Lexington Four voted in favor of a $25.4 million bond referendum in 2016 to make the improvements possible. Superintendent Dr. Robert Maddox recognized and thanked the taxpayers of the district for their support and commitment to the students of Lexington Four. He also thanked staff for their work on the project, including Director of Operations Dave Toole for the tremendous amount of time and expertise he provided overseeing the renovations.
The new auditorium includes a full fly stage, dressing rooms, multi-area lighting, sound control, and communications system, orchestra pit, and cat walk. There are new chorus, band, and art rooms, a scene shop, and practice rooms. A concert grand piano is on the stage. In addition, the lobby area, front office, and parking areas have been expanded and improved, and have upgraded security features.
The Athletics Complex improvements include new gym bleachers, an eight-lane track, concessions buildings & restrooms, softball & baseball fields, scoreboards for football, baseball and softball, new fencing throughout the complex, and a number of other enhancements.
A full list of improvements can be found at www.lex4.org.