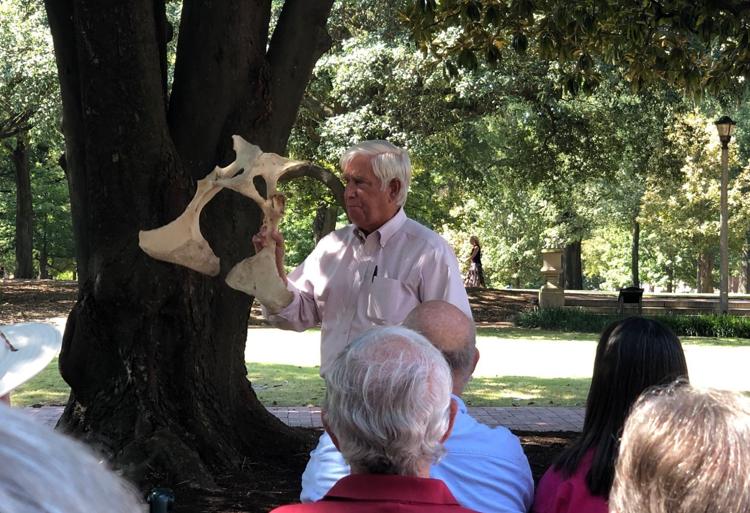 There were 98 people who gathered on the University of South Carolina's horseshoe Tuesday afternoon to hear about the nature of fall. Naturalist Dr. Rudy Mancke entertained a crowd with his comical and educational stories explaining what happens to many plants, animals, and insects this time of year.
Mancke first mentioned the drastic change in most birds' environments. Although there are many species migrating away from the area, there are other species from more western regions that migrate here. "I always get excited going across the Blossom Street bridge, seeing the number of blue herons around this time. They fly down and join us," he said. Mancke also mentioned that people who usually take down their hummingbird feeders at this time of year, might should reconsider. "I'd put it back up," he added. "I bet those hummers from the west were coming here a long time be fore we ever noticed them."
Many insects' life cycles come to an end during the fall season, according to Mancke. "Camelot is going to fall," he laughed when discussing colonies of insects. "These large groups of hornets, yellow jackets, everybody but the honey bees." Mancke noted that spiders and insects have a very short life, but some butterfly species migrate or hibernate as the weather gets cooler.
A variety of objects including a moth cocoon, rainbow snake skin, purple puff ball mushroom, and sliver of a hornets nest were passed around for the crowd to observe and feel. Mancke also brought other objects to display like a horse pelvis bone, and Catalpa tree seeds.
Sally and Jonas Mullen said even though they've heard Mancke's nature talks many times, they always love attending them again. "He is a real treasure of South Carolina, and I hope he lives a long time, he's just a wonderful person. Still not enough people know of him, he's just incredible," Sally Mullen said. She said her favorite part from Thursday's talk was learning about the rainbow snake. "I was just really unfamiliar with that snake, it was very interesting."
Mancke holds one nature talk on the horseshoe, in front of the McKissick Museum, each season.