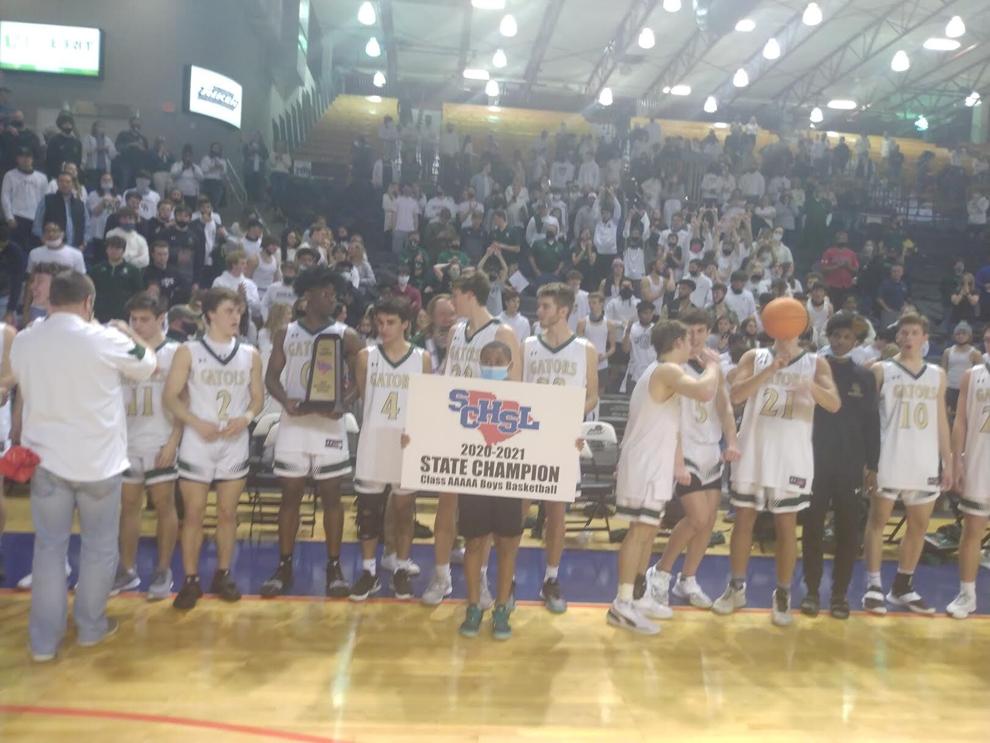 The Class 5A boys' basketball title now resides in The Swamp.
River Bluff ended the four-year championship reign of Dorman in the 57-45 victory Saturday night at the University of South Carolina-Aiken Convocation Center.
"It's awesome," said River Bluff head coach Ben Lee, who won his 100th career game and was making his fourth try at a state title as a player and coach. "To be in the leadership role during it, to be in charge of a bunch of great young men, it's amazing."
The Gators (14-4) jumped out to a 21-12 lead at the end of the first quarter and were up 30-27 at halftime, spearheaded by All-State senior Myles Jenkins. He had 19 of his game-high 31 points in the first half, finished with eight rebounds and was a perfect 7-7 from the free-throw line.
"It was my last time here," Jenkins said. "I've played with these guys since fourth and fifth grade. So I felt like 'why not give my best'".
"Myles Jenkins was fantastic tonight," Dorman head coach Thomas Ryan said. "We didn't have an answer for him."
The Cavaliers (21-5) rallied back behind Class 5A Player of the Year Jalen Breazeale who finished with 14 points to take the lead in the third quarter.
After a short jumper by Nathan Clowney with 4:26 left, Dorman did not score again. A three-point play by Jenkins spearheaded a 17-0 run by River Bluff and Preston Hearn's three-pointer with 3:12 left put the Gators up for good.
Hearn had three of his team's seven three-pointers and finished with nine points. For the post-season, the Gators connected on 29 3-pointers.
"We went cold and we weren't kind of sure of ourselves," Ryan said. "We didn't play with confidence. When you lose confidence in basketball, it can get away from you quick."
With 1:38 left, Jenkins scored the Gators' next four points to push the lead to 50-45. River Bluff made three straight free throws and when Grayson Renner hit an open layup, the large contingent of Gator fans began to celebrate.
In the final seconds, senior Malachi Reeves closed out his career with a layup to clinch the school's first boys basketball title and fifth state title overall (girls' tennis, wrestling, competitive cheer).
The win snapped Dorman's 18-game regular season and 23-game post-season winning streak and prevented it from becoming just the third school in SCSHL history to win five straight titles. The Cavaliers and Calhoun County are the only teams in the modern era to win four consecutive championships.
"I'm happy for Ben Lee," Ryan said. "What a guy. What character. He deserves it."