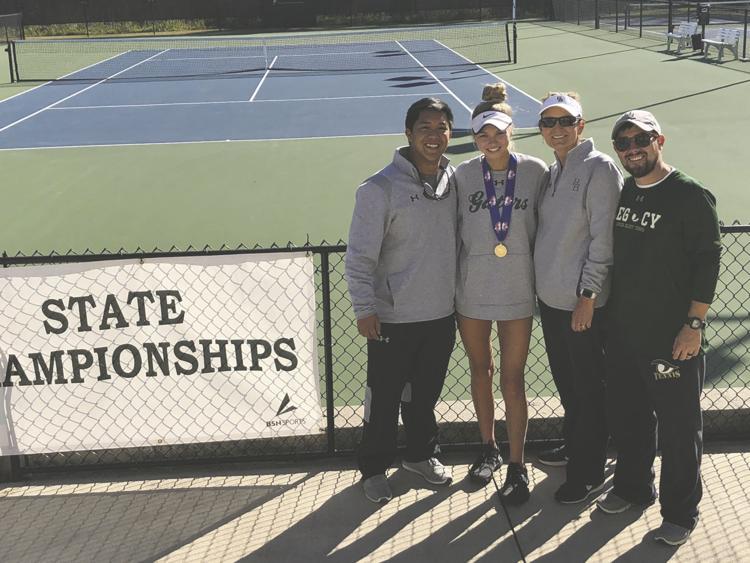 Since enrolling at River Bluff High School this past year, tennis player Jesse Hollins has made the most out of her senior campaign.
It was nearly two years ago when the Coastal Carolina signee helped the Lady Gators secure their second Class 5A title in three years.
After two weather interruptions last week, Hollins made school history Wednesday. She won her semifinal and final matches to claim River Bluff's first individual girls' tennis title.
"When I met Jesse in the summer when she was registering for classes, we discussed goals for the season," Lady Gators' head coach Brian Lim said. "Winning a state championship as a team and winning a state championship as an individual were two goals that we set and I am happy she was able to accomplish both. Jesse has impressed me with her adaptability to a new environment. Also, she has handled the pressure very well and always does so with class."
In completing an undefeated season at 27-0, Hollins won five matches all in straight sets:
Round 1: Defeated Dee Dee Alston (Dorman) 6-0, 6-0
Round 2: Defeated Brooke Rogers (Socastee) 6-0, 6-3
Quarterfinals: Defeated Emerson Mitchell (JL Mann) 6-2, 6-0
Semifinals: Defeated Emily Ruckno (Hilton Head) 6-0, 6-4
Finals: Defeated Crawford Latham (Spring Valley) 6-2, 6-1
"Jesse is a very unique and exceptional talent," Lim said. "River Bluff was fortunate to have her as a player for her senior year. Jesse, as well as the whole team, have set the bar high for future players. This has been an incredible season for River Bluff Tennis that future players will hope to replicate."