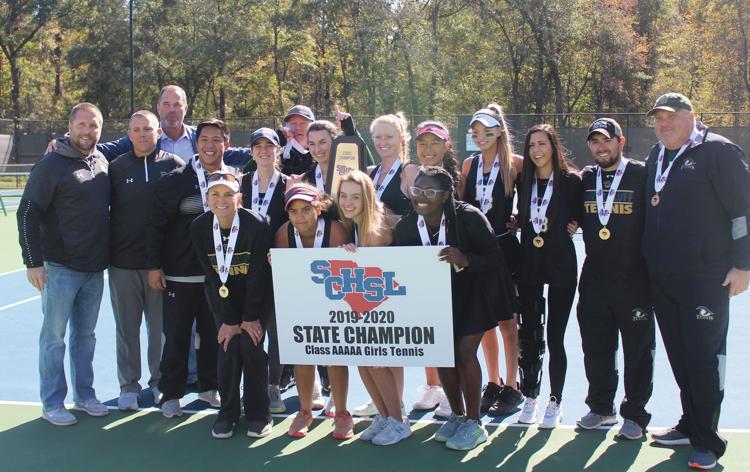 Brian Lim is humbly reluctant to call his girls' tennis team the "gold standard" at River Bluff High School.
Many may say otherwise after the Lady Gators claimed their second Class 5A title in three years Saturday at the Cayce Fitness and Tennis Center.
In becoming the school's first two-time state champion, River Bluff stormed back to win four singles matches to defeat J.L. Mann 4-2.
"Honestly, it's the best feeling ever," said senior Claire Floyd, a member of the 2017 state championship team. "We worked really hard. Last season served as a motivation for us, but it feels good to be back."
"I'm really proud of them," Lim said.
The comeback was spearheaded by Floyd, senior Jessie Hollins, who transferred this year from Buffalo, New York, junior Kiana Thatcher and freshman Liyin Zhu. Both Thatcher and Zhu rallied from first set losses to win their matches as Floyd and Seymour were completing their victories.
While Lim said it was 'nerve-wrecking', Zhu was inspired by the large turnout of River Bluff fans who lined up outside the court fences to provide support.
"I think that having Gator Nation here, I'm definitely a pressure player that likes a lot of support," she said. "So, everyone that was cheering, I was like 'I got this'!"
Thatcher had a different form of motivation.
"It was my last game ever, so I was like 'Maybe I should win'," she said.
SINGLES
Jesse Hollins (RB) def. Emerson Mitchell 6-4, 6-2
Liyin Zhu (RB) def. Liyin Zhu
Claire Floyd (RB) def. Sidney Mitchell 6-4, 6-1
Kiana Thatcher (RB) def. Eleanor Kneeland 6-3, 3-6
Cassidy Carlson (JL) def. Jordan Schaberg 6-0, 6-2
DOUBLES
Hannah Ellis/Beech Haddad (JL) def. Riley Mitchell/Patty Silva
(PHOTO BY THOMAS GRANT JR.) The River Bluff girls' tennis team with the Class 5A title.
Attachments area