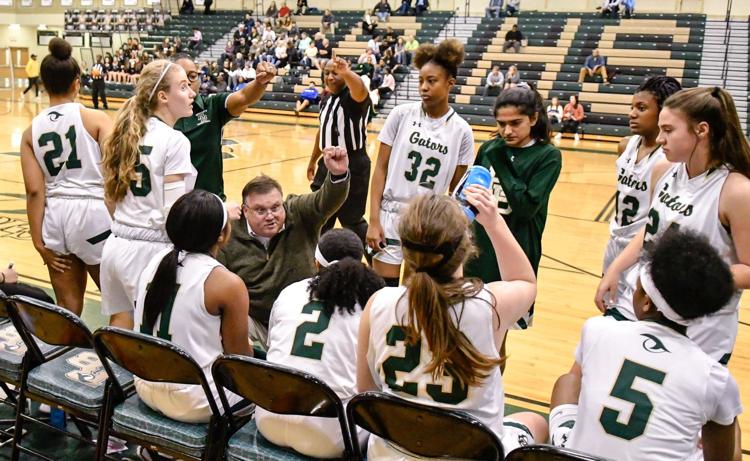 The River Bluff girls' basketball team is coming of age.
After two seasons of growing pains, the Lady Gators appear ready to compete with the top teams in Class 5A.
They defeated now fourth-ranked Irmo 57-52 in "The Swamp" Jan. 7, after a 20-point loss a month earlier.
With last Saturday's victory over Swansea, River Bluff (9-7) surpassed its combined win total from the previous three seasons.
"That's a tribute to the girls," Lady Gators' head coach Brian McKinney said. "They've been working hard. We had a young group last year and they're certainly young still. But, the girls have worked hard, dedicated themselves to getting better. They've put the time in. We've gone to team camps together. They've gotten closer as a group.
"They've given us everything we've asked of them and more at times. They have done a good job of setting themselves in that mindset that we're going to get better, we're going to improve and start making some gains on these teams."
The leadership at River Bluff is a blend of experience and youth.
Senior point guard Japonica Wilson is averaging a team-high 14.8 points and 3.1 steals and 5.3 rebounds a game.
She's joined in the backcourt by junior Niya Perry, who leads the team in assists (3.5).
In the frontcourt, center Reagan Rozier is averaging 8.3 points and 7.4 rebounds a game.
Swingman Samira Khalil is averaging 13.5 points and 5.1 rebounds a game in her first season on the varsity.
As an eighth grader, she looks to gain the same experience her sophomore and junior teammates who were, in McKinney's words, thrown "to the wolves" against Class 5A competition.
"She's got a lot of basketball still yet to be played," he said. "This is just the first year of five for her. She plays all the time. She plays on some good AAU teams and she's already getting some people paying attention to her. She's got teammates from AAU that already have commitments to some Division I schools. So she's playing with some good people there and helping propel us forward.
"She's going to get some offers hopefully before it's over. She's learning from that move from middle school to high school. It's a big jump, especially here. There's some good talent around here and I think she's adjusting well along with the rest of the girls who are figuring out what it takes to be successful."
River Bluff opens Region 5-5A play Thursday at Dutch Fork. It will look to snap a 45-game region-losing streak dating back to Feb. 3, 2015.
"We really feel like (Region 5-5A) is up for grabs this year,' McKinney said. "This is a great region. There are some good basketball teams in this region. Some coaches who stand out. This is that win (over Irmo) that really propels us forward to say we can compete in this region. We can be in the middle of this year in that hunt for the title.
S.C. BASKETBALL COACHES ASSOCIATION RANKINGS
(BOYS)
Class 5A
1. Dorman
2. Mauldin
3. Wade Hampton (G)
4. Irmo
5. Fort Dorchester
6. Northwestern
7. Dutch Fork
8. River Bluff
9. Byrnes
10. Blythewood
Class 4A
1. Ridge View
2. Lower Richland
3. AC Flora
4. Myrtle Beach
5. Travelers Rest
6. Wren
7. North Myrtle Beach
8. Aiken
9. Greenville
10. Daniel
Class 3A
1. Keenan
2. Bishop England
3. Wade Hampton
4. Union County
5. Georgetown
6. Seneca
7. Marion
8. Indian Land
9. Chapman
10. Edisto
Class 2A
1. Gray Collegiate
2. Lee Central
3. Christ Church
4. Whale Branch
5. Abbeville
6. Greer Middle College
7. North Charleston
8. Andrew Jackson
9. Burke
10. Barnwell/East Clarendon
(GIRLS)
Class 5A
1. Clover
2. T.L.Hanna
3. Irmo
4. Goose Creek
5. Sumter
6. Westside
7. Wando
8. Rock Hill
9. Jl Mann
10. Spartanburg
Class 4A
1. North Augusta
2. Ridge View
3. South Pointe
4. Westwood
5. North Myrtle Beach
6. Orangeburg Wilkinson
7. Wilson
8. Blue Ridge
9. Crestwood
10. Bluffton
Class 3A
1. Marion
2. Manning
3. Bishop England
4. Dillon
5. Keenan
6. Woodruff
7. Camden
8. Seneca
9. Chester
10. Emerald
Class 2A
1. Christ Church
2. East Clarendon
3. Mullins
4. Lee Central
5. Saluda
6. Woodland
7. Buford
8. Gray Collegiate
9. Andrew Jackson
10. Barnwell