It was Feb. 3, 2015.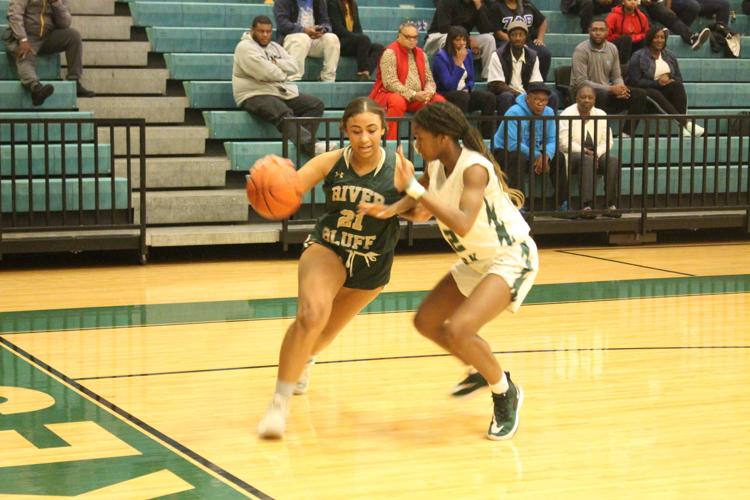 Head coach Megan Assey (now at Spring Valley) led the River Bluff girls' basketball team to an overtime victory over Lexington. The win secured a first-ever playoff berth for the Lady Gators.
Thursday at Dutch Fork High School, River Bluff again needed an extra period to secure a region win. This time, the Lady Gators did more than secure a 59-53 win over the Lady Silver Foxes in their Region 5-5A opener.
It ended a losing streak of 45 consecutive games dating back to the victory five years earlier at Lexington. This also marked the first time since the 2014-15 season that River Bluff (10-7, 1-0) has recorded double-digit victories.
Rather than reflect on the end of the skid, third-year head coach Brad McKinney was proud of his team's resiliency in battling back after squandering a double-digit lead and falling behind in regulation.
"I didn't talk about it that much because we were focused on this year right now," he said. "These girls have worked hard to get things going the right year. We've improved leaps and bounds."
River Bluff jumped out to a 17 -2 lead after the first quarter. Senior point guard Japonica Wilson sparked the strong start with nine of her team-high 20 points.
Reagan Rozier followed with nine of her 15 points in the second quarter to help the Lady Gators maintain a 27-14 halftime advantage. Led by the scoring of Samara Brennan, who finished with 14 points, the Lady Silver Foxes outscored River Bluff 18-12 in the third quarter to close the deficit to 39-33.
The comeback continued in the fourth quarter. A 12-5 run in which Kori Peterman scored seven of her 13 points put the Lady Silver Foxes ahead 45-44 with 2:56 left.
A three-pointer by Maia Brown, who finished with 15 points, gave Dutch Fork its biggest lead at 48-44 with 1:46 left.
After hitting the bench following a technical foul call, Wilson returned to the game. She quickly regained River Bluff's momentum with five straight points on a three-point bank shot and layup to put her team ahead 49-48 with 27.4 seconds left.
Following free throws by both teams, River Bluff led 51-49 when Courtney Hallman's putback tied the game with 8.4 seconds left. Dutch Fork had a final chance to win in regulation with a second left following a Lady Gators' turnover, but were unable to put up a shot.
A steal and layup by Jaden Tucker 10 seconds into overtime put River Bluff ahead 53-51. The Lady Gators added a free throw by Wilson and and three-pointer by eighth grader Samira Khalil with less than two minutes left to extend the lead to 57-51.
Khalil finished with 13 points, including three, 3-pointers.
Dutch Fork's Brown accounted for the team's lone points in overtime and Rozier closed out the scoring with two free throws in the final 30 seconds.
River Bluff heads to Chapin Tuesday, while Dutch Fork (7-8, 1-1) travels to Lexington.
BOYS BASKETBALL
Dutch Fork 61, River Bluff 44
Dutch Fork head coach Brett Jones somewhat conceded it was a 'must win' contest at home.
Coming off a 37-32 road loss to Chapin three nights earlier, the seventh-ranked Silver Foxes could not afford to fall to 0-2 in the Region 5-5A standings.
Getting 20 points from A.J. Knight, 11 of which came from the free throw line, and 19 from Jarvis Green was enough to lift Dutch Fork past the eighth-ranked Gators (13-5, 0-1), who got a game-high 30 points from Myles Jenkins.
"A home game must win I would say," Jones said. "Not a must win, but we needed it. We won three games last week, didn't play well against Chapin. Chapin played well, though. But, it's a great win. That's a really good team. Jenkins had (30). We threw everything at him, but he hurt us a bunch. But, I'm proud of A.J. Knight. He played really well. We've been missing that. He gave us some point guard play tonight. We hadn't had that all year."
Dutch Fork (11-5, 1-1) used an 8-0 run to open the second half to extend its lead to 34-18 in the third quarter. Jenkins helped rally the Gators to within five points as he scored 23 second half points. Dutch Fork regrouped and got three-point baskets by Green and Octavious Smith to push the lead back into double digits.