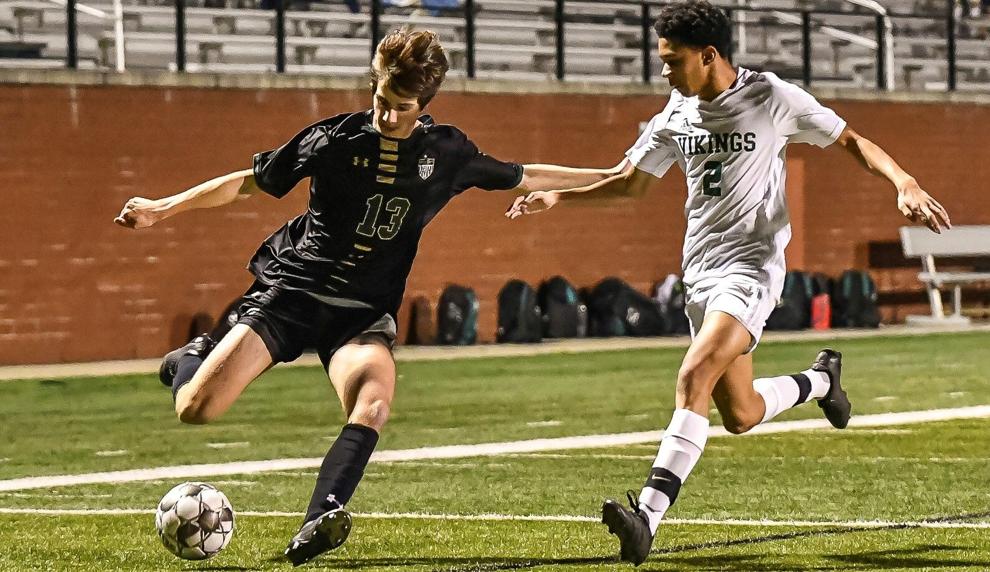 Spring Break offers another moment of celebration for River Bluff High School.
For the first time in school history, both its undefeated boys and girls soccer teams are ranked first together.
The latest SC High School Soccer Coaches Association ranking has the Lady Gators still in the top spot in the SC High School League Class 5A poll with Lexington ranked ninth and Blythewood 10th.
On the boys' side, the Gators flipped the No. 1 position with fellow Region 5-5A rival Chapin and Lexington stayed at fourth. Blythewood is the fifth Midlands team in the Class 5A poll at number 7.
River Bluff will play host to Lexington in a doubleheader April 13 in The Swamp.
Another Midlands school with a pair of No. 1 ranked teams is Providence Athletic Club. The Irmo school sees its boys and girls' teams atop the Independent rankings, with the Lady Panthers the only team included in its poll.
Other Midlands schools with both boys and girls teams in the top team are AC Flora, Gray Collegiate Academy and Cardinal Newman. The Cardinals are ranked first in Class 3A polls, while the Lady Cardinals are second.
Other ranking developments finds the Gilbert girls making its first appearance in Class 3A at number 7 and Brookland-Cayce ranked sixth in the boys.
SC HIGH SCHOOL SOCCER COACHES ASSOCIATION TOP 10 RANKINGS
SC HIGH SCHOOL LEAGUE
(BOYS)
Class 5A
1. River Bluff, 2. Chapin, 3. Wando 10-0, 4. Lexington, 5. JL Mann, 6. Ashley Ridge, 7. Blythewood, 8. Dorman, 9. Riverside, 10. Northwestern
Class 4A
1. Catawba Ridge, 2. North Augusta, 3. A.C. Flora, 4. North Myrtle Beach, 5. Myrtle Beach, 6. Eastside, 7. Hilton Head Island, 8. James Island, 9. Greenwood, 10 (tie). Easley and May River
Class 3A
1 DW Daniel, 2. Bishop England, 3. Oceanside Collegiate, 4. Academic Magnet, 5. Berea, 6. Brookland-Cayce, 7. Waccamaw, 8. Lake City, 9. Woodruff, 10. Chapman
Class 2A
1. Christ Church Episcopal, 2. Legion Collegiate, 3. Andrew Jackson, 4. Gray Collegiate, 5. Woodland, 6. Philip Simmons, 7. St. Joseph's Catholic, 8. Brashier Middle College, 9. Buford, 10. Wade Hampton (Hampton)
(GIRLS)
Class 5A
1. River Bluff, 2. Wando, 3. Carolina Forest, 4. Riverside, 5. Wade Hampton, 6. J.L. Mann, 7. Mauldin, 8. Nation Ford, 9. Lexington, 10. Blythewood
Class 4A
1. James Island, 2. A.C. Flora, 3. Catawba Ridge, 4. Myrtle Beach, 5. Indian Land, 6. Eastside, 7. Hilton Head, 8. Bluffton, 9. Travelers Rest, 10. Aiken
Class 3A
1. Oceanside Collegiate, 2. Academic Magnet, 3. Bishop England, 4. Daniel, 5. Waccamaw, 6. Powdersville, 7. Gilbert, 8. Woodruff, 9. Camden, 10. West-Oak
Class 2A/1A
1. Southside Christian, 2. St. Joseph's Catholic, 3. Legion Collegiate, 4. Christ Church Episcopal, 5. Wade Hampton, 6. Greer Middle College, 7. Gray Collegiate, 8. Philip Simmons, 9. Barnwell, 10. Ninety Six
SCISA
(BOYS)
Class 3A
1. Cardinal Newman, 2. Porter-Gaud, 3. Ben Lippen, 4. Pinewood Prep, 5. First Baptist
(GIRLS)
Class 3A
1. Pinewood Prep, 2. Cardinal Newman, 3. Hammond, 4. Porter-Gaud, 5. First Baptist
INDEPENDENTS
(BOYS)
1. Providence Athletic Club, 2. Lowcountry Prep, 3. Holy Trinity Classical Christian, 4. Greenville Hurricanes, 5. Camden Military
(GIRLS)
1. Providence Athletic Club