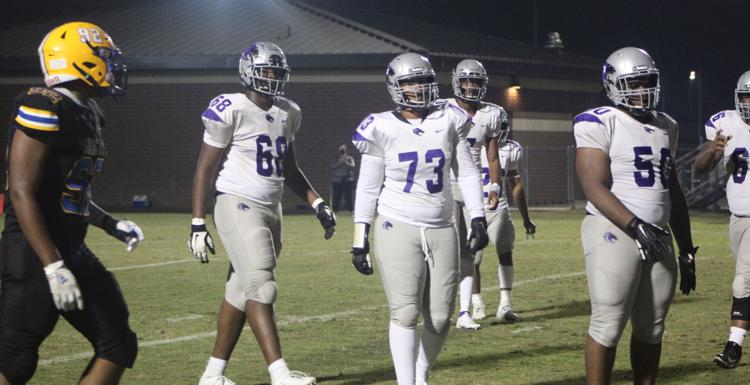 For the second consecutive week, Gilbert running back Colton Mason had a career game.
His school-record 314 rushing yards and 4 touchdowns lifted the eighth ranked Indians to a 56-42 win over Brookland-Cayce on Friday.
More importantly, the victory coupled with Strom Thurmond's 23-13 loss to Orangeburg-Wilkinson put the Indians in sole possession of first place in Region 5-3A. After never winning a region title prior to head coach Chad Leaphart's arrival in 2016, Gilbert (3-0, 3-0) can clain a third championship in 4 years with a win next week at Strom Thurmond.
Gilbert scored on its opening series as Kendrick Mitchell rushed it in from 5 yards. 
Brookland-Cayce (1-2, 1-2) answered with a scoring drive capped by a 1-yard keeper by Peyton Whitten with 8 seconds left in the first quarter. The PAT hit the left goalpost to keep Gibert ahead 7-6. 
With 7:46 left in the second quarter, Mason caught an 11-yard touchdown pass from Izeyah Whiteside to make it 14-6. Just over 2 minutes left in the first half, Colton Mason broke free for a 63-yard touchdown to extend the lead to 21-6.
Will Way's 2-yard touchdown run and 2-point conversion brought Brookland-Cayce to within 21-14 with 3:45 left in the second quarter. Just before halftime, Whiteside found Joel Franklin from 27 yards to give the Indians a 27-14 halftime lead.
Mason's third touchdown run extended Gilbert's lead to 35-14 following the 2-point conversion with 8:52 left in the third quarter. A touchdown by Whiteside gave the Indians their biggest lead at 42-14. Brookland-Cayce answered with a 60-yard touchdown pass from Whitten to Way and a keeper by Toanner Staton cut Gilbert's lead to 42-26 going into the fourth quarter.
Mason's fourth touchdown from 22 yards made it 49-26 with 8:25 left in the game. Following an interception by Harley Boatwright, Gilbert capitalized off a 20-yard pass from Whiteside to Gunter and a pair of unsportsmanlike conduct penalties on the Bearcats for a 30-yard touchdown run by Josh Blake with 3:24 left. 
Whitten finished with 174 passing yards and Staton had 146 passing yards. Whiteside finished with 127 passing yards and rushed for 31 yards and a score. 
Brookland-Cayce added 2 scores in the final 3 minutes on touchdown passes by Staton and Whitten to close out the scoring. The Bearcats have an unscheduled bye next week after their Oct. 16 game was cancelled by Swansea.
The Tigers were also forced to postpone Friday's game against Fox Creek due to exposure to covid-19. The game against the Predators was rescheduled to Nov. 6.
Dutch Fork 41, River Bluff 7
For one half, the Gators managed to hold the 4-time defending Class 5A champion Silver Foxes to 1 of their lowest point total the past 4 seasons.
An interception return for a touchdown by Adam Molnar with 2:18 left made it 10-7 lead by Dutch Fork. 
Just before halftime, quarterback Will Taylor redeemed himself with a 33-yard touchdown pass to Antonio Williams to extend the lead to 17-7. 
The Silver Foxes (3-0, 3-0) proceeded to outscore River Bluff 24-0 in the second half to extend its streak of undefeated games (43), consecutive wins against in-state teams (42) and consecutive victories both in region play and on the road (26).
Will Taylor finished 22-35 for 334 yards and 4 touchdowns, 2 each to Antonio Williams and Elijah Spender. Williams finished with 10 receptions for a career-best 196 yards and Spencer had 7 receptions for 93 yards. Running back Jarvis Green had 19 carries for 127 yards and a touchdown for Dutch Fork.
Defensively, Dutch Fork held the Gators (0-1, 0-1) to 69 total yards. 
River Bluff travels to Chapin next week, while Dutch Fork can clinch a seventh straight region title with a win next week at Lexington. 
Gray Collegiate 34, Saluda 24
The 5th ranked War Eagles picked up their first win in school history against the defending Class 2A champion Tigers.
Trailing 8-0, Gray Collegiate (3-0, 3-0) got a 1-yard touchdown run by KZ Adams to get within 8-7 with 4:31 left in the first quarter.
Quarterback Tre Robinson scored on a keeper to put the War Eagles up 14-8. A field goal by Saluda made it 14-11 at halftime and it drove the football to the Gray Collegiate 1 to open the second half.
The War Eagles stopped Saluda on fourth and goal and drove the football 99 yards for a score on Robinson's 20-yard touchdown with 3:30 left in the third quarter.
A 6-yard touchdown catch by Jabori Baker cut Gray Collegiate's lead to 27-17. The War Eagles added a touchdown to go up 34-17 before the Tigers closed out the scoring with a 23-yard touchdown pass play.
Gray Collegiate travels to Eau Claire next week with a chance to clinch a playoff berth and a share of the Region 3-2A title.
Ridge View 38, Lexington 12
The Wildcats' season-opener at home was spoiled by 31 unanswered points from the visiting Blazers. 
Lexington (0-1, 0-1) had a 12-6 lead after 1 quarter following touchdown runs of 1 and 11 yards by Carlton Finney.
With 10:06 left in the second quarter, Andrew Washington completed the first of 2 touchdown passes to Jordan Smith to give Ridge View (2-1, 1-1) a 14-12 halftime lead.
A 25-yard touchdown pass from Washington to Smith put the Blazers up 21-12. After the Wildcats were forced to punt, Smith fielded the punt and broke free from 2 tacklers and into the open field for a 69-yard touchdown. 
Nearly 16 seconds left, Naejuan Barber returned Reese Marcum's pass 36 yards for a touchdown. Anthony Barton added a 24-yard field goal in the fourth quarter for the Blazers.
Chapin 43, White Knoll 28 
Bennett Calloway scored 4 touchdowns, including a 90-yard kickoff return for a touchdown, and finished with 108 rushing yards to lead the Eagles. 
Hunter Sheppard finished with 203 passing yards and a touchdown.
Kennedy Ramsey had 213 passing yards and 2 touchdowns, DeAree Rogers had 8 receptions for 138 yards and a touchdown and TJ Peebles rushed for 97 yards for the Timberwolves (0-3, 0-2).
White Knoll plays host to Nation Ford, while Chapin (2-1, 1-1) plays host to River Bluff. 
AC Flora 45, Irmo 14 
Richard Winn 44, Northside Christian 18 
Palmetto Christian 54, WW King Academy 8