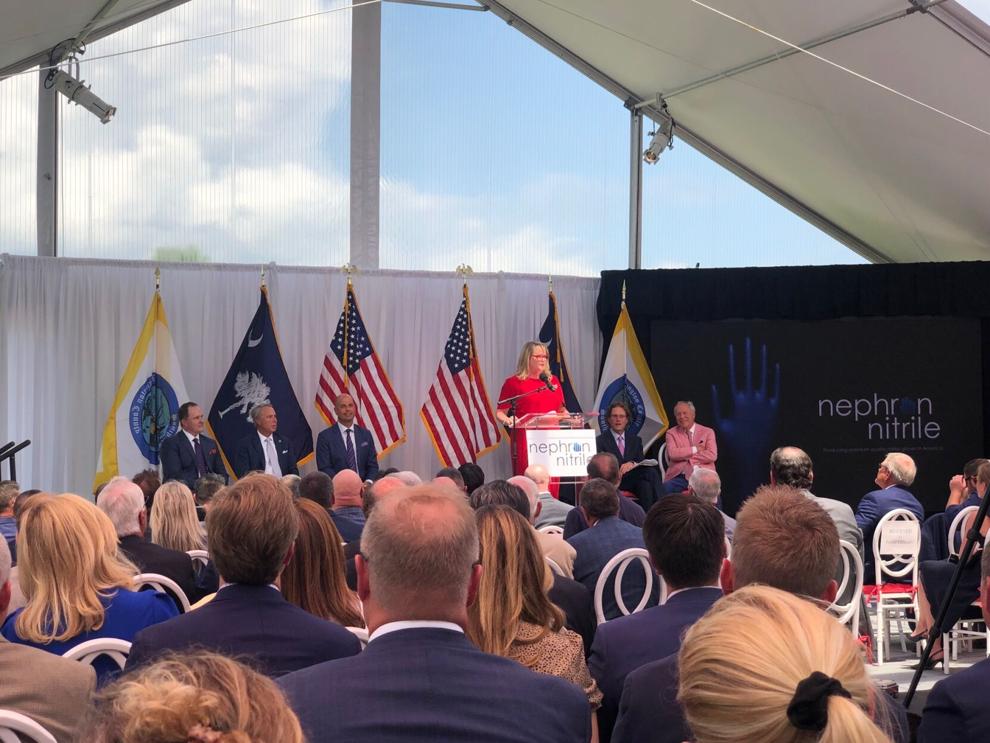 Nephron Pharmaceuticals announced the launch of Nephron Nitrile Thursday. The manufacturing company is projected to produce three billion nitrile gloves in its first year at Nephron's Saxe-Gotha Industrial Park facility.
The gloves will be manufactured in the Kennedy Innovation Complex which is a piece of Nephron's $215.8 million expansion at the Lexington County headquarters.
Nephron CEO Lou Kennedy along with Gov. Henry McMaster made the announcement in a ceremony at Nephron's headquarters Thursday.
"I believe this will be a game changer for our great state of South Carolina," Kennedy said. "America, and as a result South Carolina have become far too dependent on foreign sources of items to keep us healthy, safe and secure. The COVID-19 pandemic exacerbated those shortages of personal protective equipment."
The half-million sq. ft. facility will be the production grounds for the premium, medical-grade nitrile gloves which will be distributed throughout hospitals, health systems, to bank tellers and other markets that require personal protective equipment (PPE).
"Although America remains the world's top innovator in life sciences, it dramatically lags behind counties such as China and India in the manufacturing of antibiotics, active pharmaceutical ingredients, medical devices and PPE," Kennedy said. "What I'm here to tell you today is that we can change that, and in fact, we will."
Nephron Nitrile's launch represents an investment of more than 100 million dollars in the Midlands and will create 250 new jobs in the area.
Gov. Henry McMaster praised Kennedy and the innovation of Nephron. "This is what the future looks like, this is what success looks like and Nephron is digging a way," McMaster said. "We are a manufacturing mecca."
Kennedy thanked her partners, the community and Gov. McMaster for their assistance in making the pharmaceutical company's next project become a reality.
"It send a signals to the nation and the world that South Carolina can be ground zero for the effort to onshore domestic manufacturing of PPE," Kennedy said. "It's an incredible time to call this special place home."