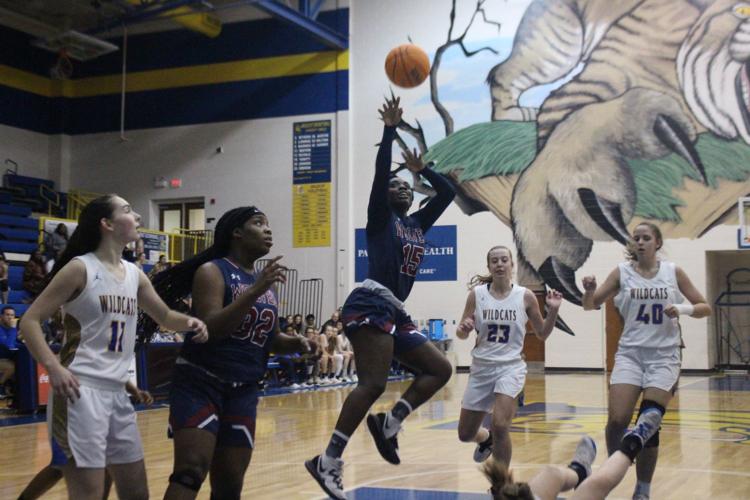 Trailing as many as 10 points with less than three minutes left, the White Knoll girls' basketball team scored the final 10 points of the game to stun defending Region 5-5A champion Lexington 44-43 Tuesday night at Wildcat Gymnasium.
Jasmine Jenkins scored 25 points, including a twisting layup with 11 seconds left to put White Knoll (9-6, 1-0) on top. Bria Singleton had nine points, including a critical three-pointer during the game-ending run.
Alexis Sexton led the Lady Wildcats with 12 points and Lyndsey Garner added 11 (8-8, 0-1)
Irmo 62, Spring Valley 36
The Irmo girls' basketball team is three wins shy of helping head coach Monica Williams reach the 400-win milestone.
The third-ranked Lady Yellow Jackets defeated two-time defending Region 4-4A and Upper State champion Lady Vikings at the Temple of Doom. Ehrial Wagstaff had 22 points and 10 steals and Maliyiah Mason also posted a double-double with 13 points and 13 rebounds.
Jayla Lovett had 11 points for Irmo (12-3, 1-0), who play host to Blythewood Tuesday.
Dutch Fork 57, Chapin 31
Kori Peterman scored 25 points and grabbed 10 rebounds, and Samara Brenna had 11 steals to lead the Lady Silver Foxes in their Region 5-5A opener.
Dutch Fork (7-7) plays host to River Bluff Friday.
Gilbert 50, Swansea 41
Chasity Dent scored 18 points and Madison Pride added 10 for the Lady Indians in their Region 5-3A opener.
Lauryn Robinson had a game-high 25 points for the three-time defending region champion Lady Tigers. Swansea (5-8, 0-1) next plays host to Strom Thurmond Friday.
Gilbert (7-5, 1-0) plays host to Strom Thurmond Jan. 21.
Airport 63, Midland Valley 15
Jayla Jamison scored 19 points and Amea Zeigler added 15 for the Lady Eagles.
Up next for Airport (11-5, 1-0) is a visit to three-time defending Class 4A champion and Region 4-4A champion North Augusta Friday. The Lady Yellow Jackets routed Brookland-Cayce 63-9.
BOYS BASKETBALL
Lexington 43, White Knoll 42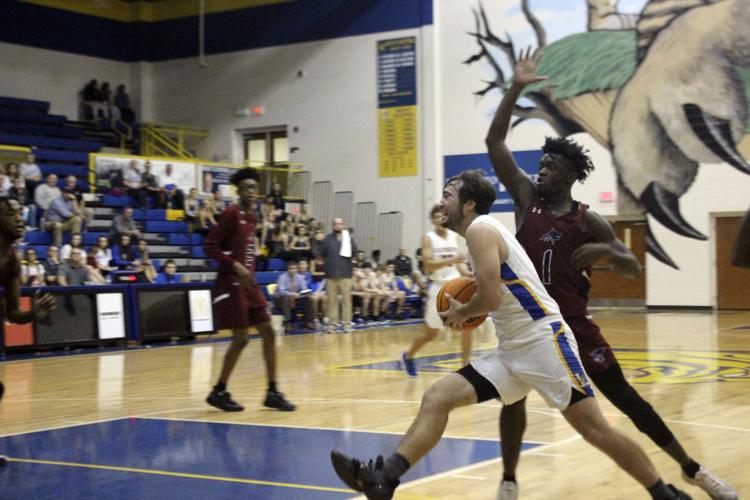 The Wildcats rallied from an eight-point halftime deficit to hold off the visiting Timberwolves 43-42.
It was the ninth straight region win for the defending Region 5-5A champions.
Trailing 15-8 after one quarter, the Timberwolves outscored the Wildcats 20-5 in the second quarter. Jajuan Jennings' three-pointer at the buzzer sent an excited White Knoll and head coach and former Lexington standout Devin Liferidge into the locker room up 28-20.
First-year forward Aiden Daniels dominated the second half for Lexington. Celebrating his birthday, the senior outscored White Knoll 17-14 in the second half and had 13 points in the third quarter to put the Wildcats up 36-32.
Daniels added a couple of baskets down the stretch in finishing with a game-high 25 points. White Knoll (12-6, 0-1) managed to cut the lead to one with five seconds left following consecutive baskets by Jalen Ray, who finished with 14 points.
A quick, long inbounds pass downcourt to Daniel enabled Lexington (11-7, 1-0) run out the clock.
"We just kept fighting," first-year Lexington head coach Elliott Pope said. "That's something that we need to do better. It's something that we need to recognize as players and coaching staffs that we have these situational moments that we've got to be able to execute. That's kudos to those kids. But we've got to also remember that we've got a lot of guys who are so hard on themselves. There's a lot of first time varsity experience for a lot of guys. We don't have a major returner coming back us. You've got (point guard) Cam Scott, an eighth grader. You've got Aiden Daniels, a kid whose never played organized basketball before and it's a really big step forward for us to handle the pressure situation and come out on top."
Lexington returns to action Jan. 21 at Dutch Fork. White Knoll plays host to Chapin Friday.
Irmo 69, Spring Valley 58
Juice Keitt scored 21 points, Khari Felder had 14 and C.J. Washington finished with 13 to lead the fourth ranked Yellow Jackets.
Chapin 33, Dutch Fork 30
The Eagles open Region 5-5A play with a victory over the third-ranked Silver Foxes.
Airport 53, Midland Valley 48
Jeremiah Harris scored 14 points, Steve Gomez had 12 and Xavier Ford-Belton finished with 11 for the Eagles.
Swansea 54, Gilbert 40
Tymir Lowman had 19 points to lead the Tigers in their Region 5-5A opener.
North Augusta 60, Brookland-Cayce 55