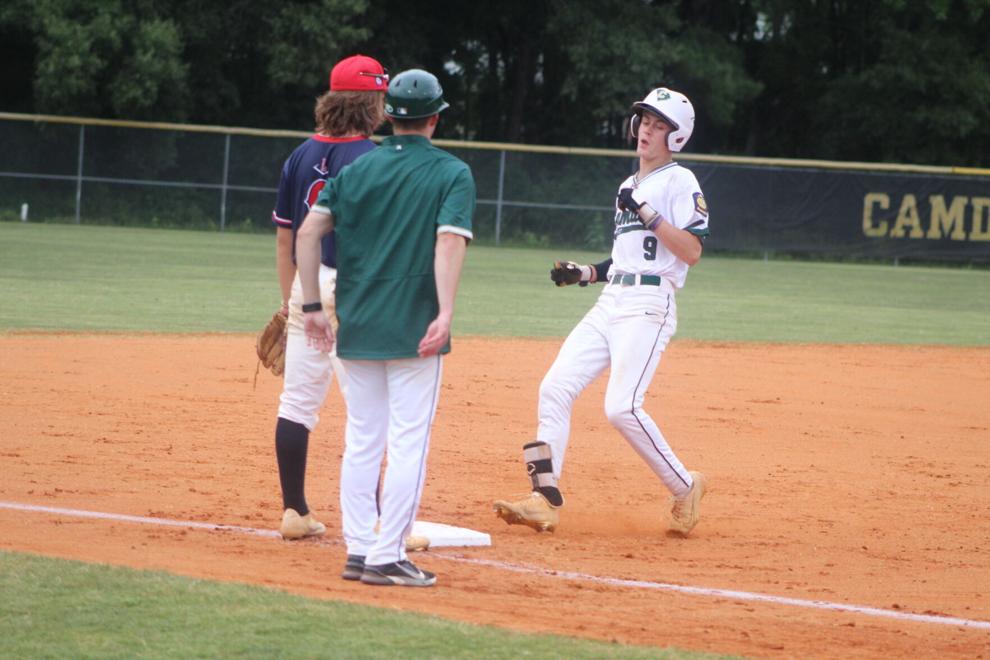 In a span of three days, Lexington Post 7 saw its hold on the top seed out of SC American Legion League 3 up in the air.
It went from certain with a victory in the final two games of the regular season to uncertain following losses to Chapin/Newberry and Camden Post 17.
The latter occurred Wednesday in a 12-9 defeat to Camden. With Chapin/Newberry's 11-6 win over West Columbia, the regular season ended with three teams tied for first place.
The League 3 committee determined Friday the seeding for the American Legion playoffs starting Monday. They settled on a formula used in past American Legion tiebreakers that was applied for such instances.
The end result saw Lexington win the top seed based on holding the advantage in runs allows and runs scored from the split meetings with Chapin/Newberry.
With Chapin/Newberry in second place, Camden was placed third after losing both meetings with Chapin/Newberry.
Lexington will now await in the second round the winner of the first round Best-of-Three series matchup between fourth seed Aiken and fifth seed West Columbia.
Chapin/Newberry will open play Monday at Newberry College against sixth seed Richland Post 215. The winner will face either third seed Camden or Lower Florence, the fifth place team out of League 5, in a Best-of-Three second round series starting July 19.
The winners of both second round series advance to the double-elimination state championship tournament starting July 26 at Segra Park.
Camden 12, Lexington 9
After Tuesday's crushing loss to Chapin/Newberry in which Lexington was out away from the League 3 title, Noah Davis got it off to a quick start in the top first with a two-run homer.
Camden proceeded to score nine unanswered runs over the next three innings. Will Morris put Camden on the board in the first innning with a RBI fielder's choice. With the bases loaded, Owen Dabbs hit a three-run double off Davis to make it 4-2.
Kolby Craps of Batesburg-Leesville relieved Davis. The first of five errors by Lexington enabled Camden (9-3, 7-3) to score three runs in the bottom second on a two-run single by Jacob Jordan and RBI single by Dabbs.
Blythewood's Ty Dooley's RBI single made it 8-2 in the bottom third. The next batter, Will Morris, hit a flyball misplayed in centerfield that allowed Dooley to score.
Down 9-2, Lexington (10-4, 7-3) responded with a seven-run rally in the top fourth. All were scored with two outs, including a two-run double by University of South Carolina commit Landon McMahan, a two-run single by Bennett Robinson of Lexington and RBI singles by Charlie Compton of Northside Christian and Ryan Toll of Lexington.
Post 17 reclaimed the lead in the bottom third on an RBI fielder's choice by Reed Goff. After Morris struck out Compton with two outs and runners on second and third in the top fifth, Post 17 added two runs in the bottom fifth.
"It sucked, but it's baseball," he said. "My guys showed a lot of fight this week. Obviously, we didn't come out on top last night or tonight. But Monday, we had to toughen that one out (a 14-10 home win over Camden). Tuesday, against Chapin/Newberry, we had the find a way. We had the lead, let it go late, obviously, with two outs in the seventh and it's just baseball.
"You come out tonight and you're down 9-2. You hope your guys still have a little bit of fight in them and, obviously, they showed that they did by tying it back up and, obviously, we just didn't get over that hump."
Following the second straight loss to end the regular season, Lexington head coach Drew Towery quickly turned his team's attention to the post-season.
"If we did enough to win the league, then it blessed us with a week off. But, at the same time, if we've got to line up Monday and play, I think my guys will be ready to go either way. They're anxious to play and like I keep telling them, the time is coming for playoffs. They've got to get ready to go."
Chapin/Newberry 11, West Columbia 6
Win or lose, West Columbia Post 79 was locked into its first round matchup. It will travel Monday for game one to Aiken Post 26, a 6-1 winner over Richland Post 215.
For Chapin/Newberry, a win secured a share of first place in League 3. It wasted little time taking control of Wednesday's game with three runs in the bottom first.
West Columbia (5-7, 4-6) stretched its lead to 6-0 after five innings with University of South Carolina signee Matthew Becker responsible for two of his three RBI. Chris Wise also drove in three runs for Chapin/Newberry (7-5, 7-3).
West Columbia scored three runs in the top sixth, only for Chapin/Newberry with five runs in the bottom half of the inning. Both Becker and Wise drove in their third runs of the game and Lawson Brand had a two-run double.
Wyatt Butcher picked up the victory for Chapin/Newberry with three strikeouts in six innings. Bryce Metze had five strikeouts in four innings for the loss.