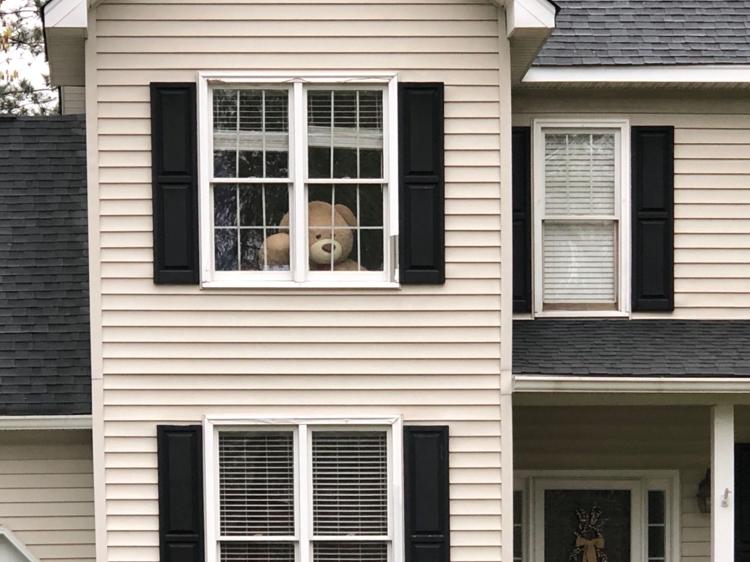 Many community members are doing what they can to help keep children's spirits high while learning from home amid the COVID-19 pandemic. Members of the Mallard Lakes/Coventry Lakes neighborhood in Lexington decided to create a "bear hunt" to provide a little added excitement for kids, inspired by a Facebook post that has gone viral.
Participation is simple: residents place a stuffed bear in their window or yard, and children try to "hunt" them out while walking or riding through the neighborhood with parents. It's something families can do outside while maintaining social distancing.
Lara Morris said she posted the idea on the neighborhood's Facebook page and was shocked to receive such a positive and immediate response from other residents. "I saw it on a friend's Facebook and thought it was such a great idea," said Morris. "I just want it to inspire the rest of the neighborhood and bring joy, hopefully. I mean, for all of us sitting inside our houses and seeing little children walking by looking at the bears, it's exciting." She and her husband have a five-year-old and a 12-year-old who are looking forward to spotting other participating houses.
Robin Cucurullo and her two children decided to go on the bear hunt Monday afternoon. She said it was a nice addition to their usual walks. "We loved bear hunting. It turned a regular walk into a mini adventure, and even got me excited after the monotony of staying in the house," she said.
At least 12 houses participated within the first day.
It just "makes you feel good," according to Morris. "That's what we need - something to bring the community together and to remind everyone that all is not bad and scary. There is still happiness out there, and I feel like we should all be there for each other."
The children's book We're Going on a Bear Hunt coincides with the original idea. A read-aloud version of the book, with sound effects, is available to listen for free on Youtube.