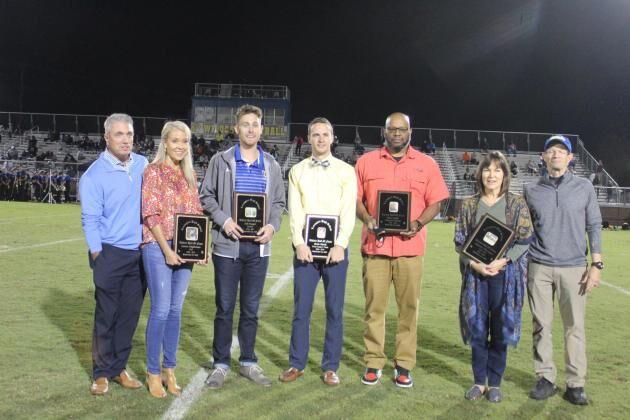 As student-athletes at Lexington High School, golfer Lauren Stephenson and Maureen Dunnagan, cross-country runner Drew Harris and baseball players Brian Foulks and Josh Reagan all earned state championships.
This past Friday, the quintet earned the school's highest honor. They were inducted into the Lexington High School Athletics Hall of Fame during halftime of the football game.
Harris, Foulks and Reagan were in attendance to receive their enshrinement while the parents of Stephenson and Dunnagan stood in their place:
Maureen "Mo" Dunnagan (golf 2004-2010) - An early cornerstone to the Lady Wildcats' run of 13 straight state championships, she was a starter on 6 of those winning teams. In 2009, Dunnagan won the state individual title, was named the SC Coaches Association of Women's Sports Class 4A Player of the Year, earned the Lexington High School Girls Golf Boozer Award and the Wildcat Athlete of the Fall Season. After high school, Dunnagan played college golf at North Carolina State and San Diego State.
Lauren Stephenson (golf 2009-2015) - She led the Lady Wildcats to 5 straight state titles and also earned 2 letters playing with the boys team. As a senior, Stephenson won all 8 tournaments she participated in and totalled 40 under par. She finished her high school career with 21 tournament wins, 5 straight All-State and Region Player of the Year honors and state titles her last 2 seasons. After a year at Clemson, Stephenson transferred to the University of Alabama where she held the program win a national championship that year. She also took part in the 2017 US Women's Amateur where her 30-hole quarterfinal match with Chia Yen Wu is the longest in United State Golf Association history. Stephenson is currently ranked 87th in the world rankings. 
Josh Reagan (baseball 2011-13) - During the 2012 season, Reagan posted a 7-0 record with a 1.02 earned run average in leading the Wildcats to a Class 4A Lower State runner-up finish. He had 2 complete games, 3 shutouts and allowed just 12 hits. The following year, Reagan threw 6 complete games, including 3 shutouts in leading Lexington to the Class 4A title. He won 2 of the 3 games in the Best-of-3 series and threw a 3-hitter in the deciding game. After earning All-State honors, Reagan went on to play for the University of South Carolina where he was named to the 2015 SEC Academic Honor Roll. He was drafted by the Oakland As in 2017 and played several seasons in their minor league system.
Brian Foulks (baseball, basketball 1990-93) - The 2-sport standout played forward for head coach Bailey Harris and earned All-State honors as a senior. He was also an outfielder for the 1993 Class 4A championship team. Foulks went on to play baseball at Benedict College where he became the 1st player in school history to get drafted by a Major League Baseball team when he was selected by the Los Angeles Dodgers. He currently teaches at Chicago Theological Seminary. 
Drew Harris (cross-country, track (2004-10) - The only 6-time state meet participant for the Wildcats, Harris led the cross-country team to a state title in 2009. He earned All-State honors in 2009 and 2010, won the Ingram Award and was selected to the Shrine Bowl Run in 2009. Harris went on to attend Winthrop University where he became a member of the school record 4x800 meter relay team. He later became an assistant coach at Winthrop University.