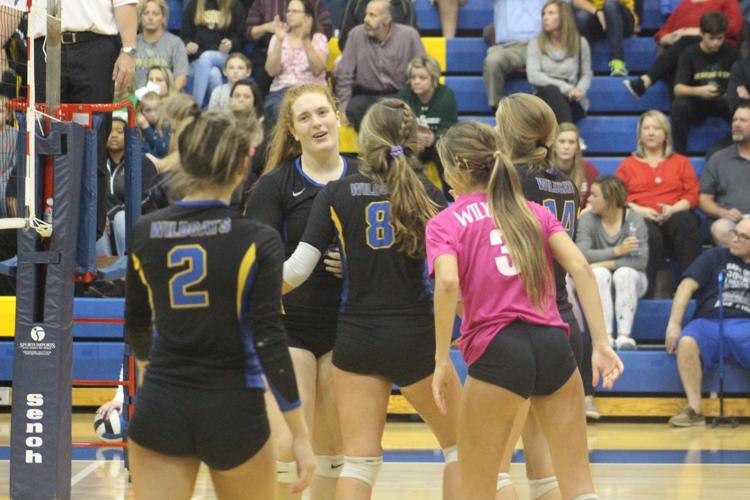 This year marked a decade since the Lexington High School volleyball team last competed for a state title.
The road taken this year to reach that destination Tuesday was filled with familiarity. After defeating Region 5-5A foes Dutch Fork and White Knoll in the first and third rounds, the Lady Wildcats defeated their biggest arch rival River Bluff in four sets at home in the Class 5A Lower State finals.
"This was our fourth chance at Lower State and we did it this time," captain Layla Sarvis said.
In claiming the 'rubber match', the Lady Wildcats denied the Lady Gators a first ever state title appearance and homecourt advantage in the state final against defending champion Nation Ford. Saturday's 7 p.m. game will take place in The Swamp.
Lexington also rallied back after River Bluff took the first set 26-24. From there, the Lady Wildcats regrouped and claimed the final three sets by the scores of 25-22, 25-18, 25-15.
"When they came over (after the first set loss), I told them that we gave that one away," Lexington head coach Eric Shick said. "We're still the better team and we're going to keep playing like it. We did. They believed in themselves and that was a major thing."
Lexington joins Class 3A Lower State champion Gilbert as state finalists from Lexington School District 1. The district sent five teams to the post-season and they've combined for a 13-3 overall record.
Region 5-5A teams are currently a combined 9-3 with Lexington responsible for handing down all three losses.
Awaiting the Lady Wildcats (35-7) are the Lady Falcons (47-5-1) out of Fort Mill. They defeated Dorman in three sets to earn a return trip to the state finals.
Nation Ford has defeated Lexington twice this season in tri-matches, both in straight sets 2-0.
"They're tall, they're big and they've got girls tall as me on the team," Shick said. "We're going to have to serve tough, pass well, play defense. Phoebe (Perkins) is going to have to be on again and everybody's got to play well again."