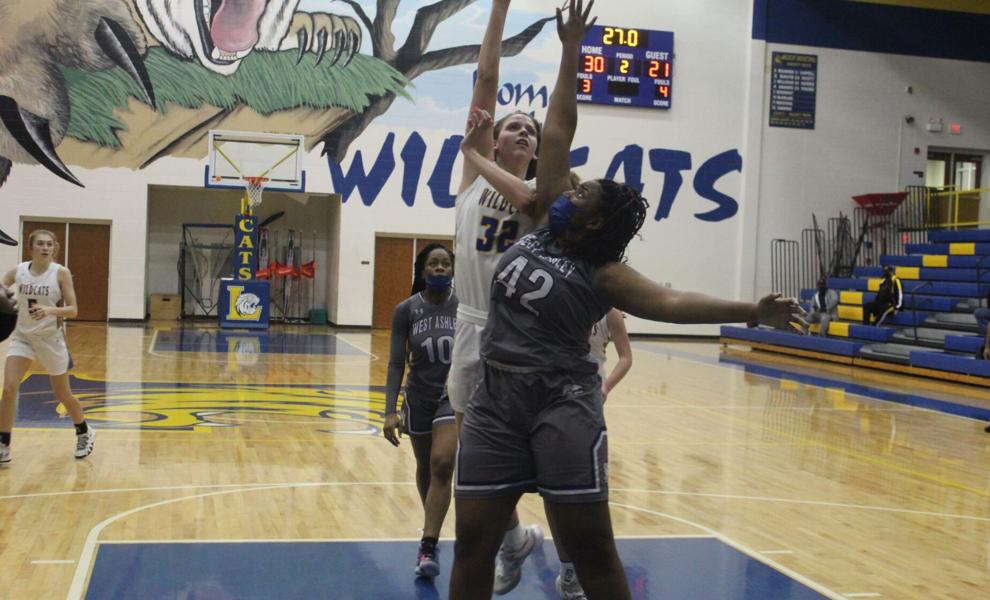 Wildcat Gymnasium witnessed an "exorcism" Monday night.
For a full calendar year, the Lexington High girls' basketball team was haunted by the first round Class 5A playoff loss at home to James Island.
Similar to 12 months earlier, Lexington opened the playoffs as a top seed against another "Lady Wildcat" team from the Lowcountry in West Ashley.
The "ghost" of last year, however, would not bring down this year's team. Led by Alexis Sexton's season-high 30 points and 16 from Jenna Yanity, Lexington rolled by the visiting Lady Wildcats 58-38.
A determined Sexton came out firing for Lexington. She scored the team's first 10 points on 4-4 shooting and two steals to help the host team build a 14-4 early advantage.
"We had something to prove," Sexton said. "We played James Island last year and it was a really tough loss. This year, we came into it thinking like expectations are to win region, but we're not just here to win region. So we had to be focused and had a good week of practice."
"She's a tough player," Lexington girls basketball coach Molly Goodrish said about Sexton. "She played very well on defense tonight. Did a very good job leading our team and I think her offense was definitely led by her defense tonight."
West Ashley rallied back behind Kristen Jenkins. She scored eight straight points to bring the visiting Lady Wildcats to within 18-15 in the second quarter.
The duo of Sexton and Yanity kept West Ashley at bay, each scoring 13 points in the first half as Lexington would team up for 13 points each in the first half as Lexington stretched their lead as many as 11 before heading to the locker room up 30-21.
At halftime, the school presented Class 5A cross-country champion Zander Jeffcoat and the state champion girls' golf team with their state championship rings.
Once play resumed, West Ashley opened the second half with a 8-1 run to get within three points again with 3:55 left in the third quarter. Lexington answered with a 11-0 run, with seven straight by Sexton, to push its lead up to 43-29.
"I just couldn't get them get a lead," Sexton said. "It was just looking too similar to last year. It had gotten scary, so you've got to put up some points, get some stops."
A driving layup and three-pointer by Sexton to open the fourth pushed the host team Lady Wildcats' lead up to 16 with 4:30 left. As time expired, Yanity hit a three-pointer to give Lexington its biggest lead.
More importantly, she put the "ghost" of last year's loss to rest. Lexington could now turn its attention to Thursday's quarterfinal home game against Wando, who defeated St. James 44-33, for a chance for a second trip in three years to the Class 5A Lower State final.
Summerville 69, Dutch Fork 22
The Lady Silver Foxes saw their six-game winning streak and season come to an end on the road against the Lady Green Wave.
WJ Keenan 89, Wren 43
MiLaysia Fulwiley had 32 points, Ashari Lewis finished with 12 and Jaylin Oree had 11 as the defending Class 3A champions opened with a victory.
They will play host to Blue Ridge at 7 pm Thursday.
Lower Richland 43, Daniel 39
Ridge View 49, JL Mann 44
Andrew Jackson 54, Marion 49
TUESDAY'S SCHEDULE
CA Johnson at High Point
BOYS BASKETBALL PLAYOFFS
Gray Collegiate 89, Greer MC 48
The three-time defending Class 3A champion War Eagles begin its quest for a fourth straight title with a convincing win at home.
Travis Barnes and Chase McDuffie each had 12 points and Brandon Gardner had 11 to lead Gray Collegiate. It will play host to York Prep Thursday at home or Allen University.
Travelers Rest 49, Irmo 41
All-Region selection Juice Keitt and Devin Binyard each scored 11 points as the Yellow Jackets fell in the 1st round of the Class 4A playoffs.
Irmo trailed as many as 15 points in the 3rd quarter. A 14-4 run in the 4th quarter cut the deficit to 45-41 with 1:06 left. The Yellow Jackets missed their final 4 shots and 2 free throws.
AC Flora 67, Easley 47
TUESDAY'S GAMES
West Ashley at Dutch Fork
River Bluff at Fort Dorchester
Blythewood at Mauldin
Woodmont at Ridge View