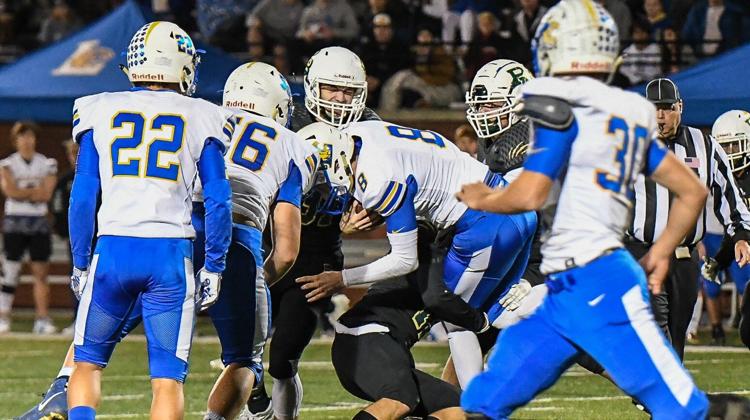 Add a third Lexington County high school football team whose season-opener is delayed due to COVID-19.
Lexington School District One announced Wednesday the cancellation of two non-region football games for Lexington High School. The Sept. 25 season-opener against Beaufort and Oct. 10 contest versus Ridge View will not take place.
Additionally, the Wildcats' Region 5-5A contest against White Knoll will be moved to Oct. 30.
This decision did not impact Lexington High's junior varsity or B teams.
"Any COVID-19 exposure results in the quarantining of direct exposure (close contact for more than 15 minutes within less than six feet) to an individual(s) that tested positive for COVID-19," the statement read. "The district believes that when students follow their passion, whether athletics, the arts, or other extracurricular activities, their participation helps shape them into responsible, well-rounded adults."
White Knoll was scheduled to face Walhalla on Oct. 30, while Lexington was set to play host to fellow Lexington District One team Gilbert. Indians athletics director and head football coach Chad Leaphart said the school will seek a new opponent to replace Lexington.
Individuals who purchased general admission tickets to Lexington's game with Beaufort High can get a refund by bringing their purchased tickets to the LHS athletic ticket office Thursday, Oct. 1, from 8 a.m. to 4 p.m. and Friday, Oct. 2, from 8 a.m. to 12 p.m.
Lexington was originally scheduled to face arch rival River Bluff Sept. 25. However, the Gators had to reschedule that game to Nov. 6 and cancel the Oct. 3 contest against South Aiken after three people associated with their football program tested positive for COVID-19.
Swansea High School also had to postpone its opener against Strom Thurmond after the Aiken County school reported a case. The Region 5-3A contest will now take place Oct. 30.
Pelion game moved to Thursday
In other Lexington School District 1 news, Pelion's home opener against Ridge Spring-Monetta will now take place at 7 p.m. Thursday.
In addition, all Senior Night activities will now take place Oct. 9 for the game against Wade Hampton.
Tickets are still on sale for $7 at the Pelion High School Gym Ticket office from 11 a.m. – 1 p.m. Tickets will not be sold at the gate. You must have a ticket for entry.
Other rules:
Masks are required before, during, and after the game.
Children should remain with their parent groups and not wander around the stadium.
Family groups should maintain social distancing while in the stands.