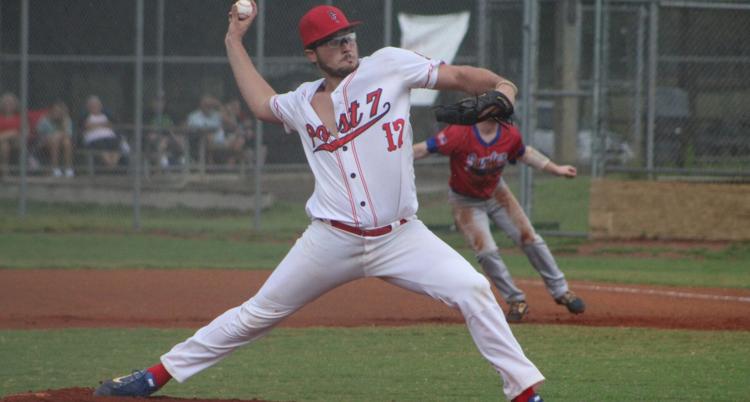 There was no joy in Lexington County Monday for its two remaining S.C. American Baseball Summer League teams.
Both Lexington Post 7 and West Columbia suffered setbacks in their quest to reach the Final 4 of the S.C. American Baseball Summer League tournament.
In the case of Post 7, its 2020 season came to a halt once again at the hands of a perennial playoff nemesis. Sumter Post 15 completed a two-game sweep of Lexington with a 16-6 road victory at Roscoe Frye Field.
Lexington took a 2-0 lead in the top of the first on a RBI double by Chapin's Noah Davis and RBI single by newly-promoted infielder Bennett Robinson.
Sumter took control with a 9-run third inning. It capitalized off four walks, two hit batsman and three wild pitches along with two of Lexington's six errors.
Lexington rallied for four runs in the Bottom fourth. Cam Ferrell of River Bluff had an RBI fielder's choice, fellow Gator Jacob Lebron of Newberry had an RBI triple and both Davis and Robinson drove in their second runs of the game on singles.
Sumter answered with four runs off reliever Alex McGinty in the top of the fifth. Brennan Jones and Seth Posey each had RBI walks and Brandon Arnold followed with a two-run single.
Post 7 put the finishing touches on the series win with a three-run homer by Stanley Johnson in the Top seventh. Lexington finished the season with a 12-10-1 record.
As the Bracket 2 winner, Sumter will face Friday the Bracket 4 champion between West Columbia and Florence in Columbia.
Post 79 head coach Dargan Lybrand revealed crushing news in a "dream season" Monday. An unidentified player was revealed to have tested positive for COVID-19.
The rest of the team received tests, with those that returned showing negative results, according to Lybrand.
Game 1 of the Best-of-Three series was moved to Tuesday and Legion Field in Florence. Game 2 and Game 3 (if necessary) would take place Wednesday at Midlands Sports Complex in West Columbia.
In addition to the strickened player, West Columbia lost the services of pitcher Sam LaFrage. Like Lexington Post 7's Travis Elliott of Gilbert, the Airport High graduate reported to The Citadel.