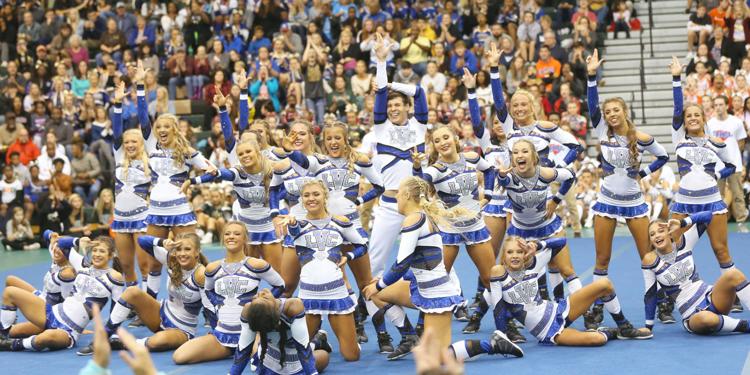 Lexington competitive cheer team seeks 6th state title
"Perfect" is a way to describe the 2019 competitive cheer season for Lexington High School.
Through seven competitions, the Lady Wildcats have taken first place each time. This includes the Class 5A State Qualifier held Nov. 13 at River Bluff High School.
They finished atop the 36-team field ahead of fellow Region 5-5A teams Chapin, the defending Class 5A champion who finished second, and Dutch Fork and River Bluff, who tied for third place.
"We have the most competitive region in the state consistently," Lexington head coach Jessica Watson said. "So, it's a lot of pressure, but I think pressure is a privilege and we try to look it like that, and we try to look at it like it's a privilege to have that kind of pressure because it really pushes you to grow and work harder."
Lexington looks to cap off an undefeated season Saturday at Colonial Life Arena against the same field of teams. It's seeking the school's sixth state title, and first since 2015.
Watson said six of the 11 seniors were members of that championship team. Despite victories over the season against former champions like 14-time winner Chapin, Dutch Fork and River Bluff, she wants the team to continue improving and produce their 'very best performance of the season' this Saturday.
"We're confident in our process and we're confident in our practice and work ethic," Watson said. "That being said, we feel like we have a great routine this year. We feel like we're bringing something to the table that's new and fresh and it's a lot of fun. So that gives us a lot of confidence."
Other Lexington County state qualifiers competing Saturday include Airport and Brookland-Cayce in Class 4A and Gilbert and Gray Collegiate in Class 3A.
The competition at Colonial Life Arena starts at 10:15 a.m. with Class 3A, 2:15 p.m. with Class 4A and 5:15 p.m. with Class 5A.
Fans unable to attend can view the competition online as it will be streamed live at nfhsnetwork.com. It's available with the purchase of a subscription to the website.