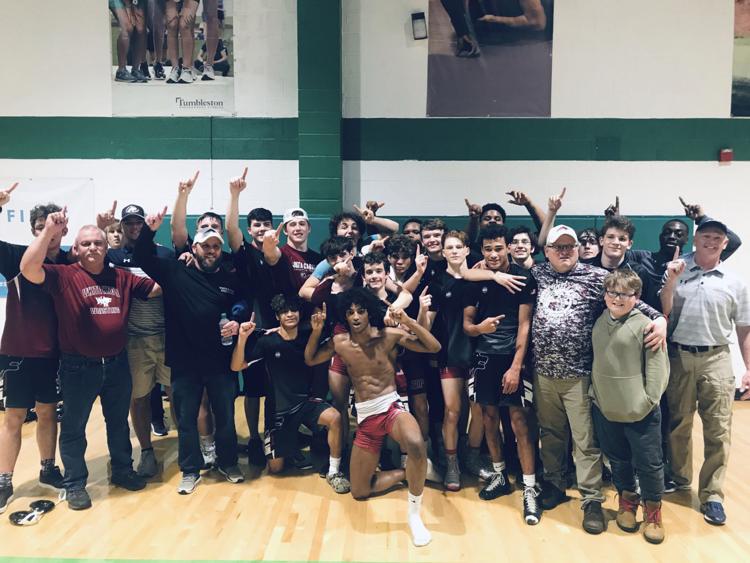 At least one Midlands high school wrestling team was guaranteed to compete for a state title Saturday at Dreher High School.
By Wednesday evening, three schools had punched their tickets to the championships. Both Gilbert and White Knoll claimed Lower State titles and North Central repeated in the Upper State in their respective classifications.
The Indians defeated Region 5-3A rival Swansea 51-15 at home to earn a second consecutive Class 3A Lower State title. In the Lowcountry, White Knoll upended host team Summerville 28-27 for the school's fourth-straight road win and first Class 5A Lower State title.
In Class 2A/A, North Central defeated Ninety-Six 36-27 for a return trip to the finals.
All three teams will have to dethrone top-ranked defending state champions in the finals. It starts at with a pair of rematches from last year when Indian Land meets Bamberg-Ehrhardt at 11 am, followed by Gilbert against Indian Land.
After the Class 4A final between defending champion Eastside and Hartsville at 3:30 pm, White Knoll will meet Hillcrest at 6 pm.
All four matches can be streamed for a fee at www.nfhsnetwork.com.
Gilbert 51, Swansea 15
After a nail-biting win over May River two nights earlier, a more relaxed Indians' team took to the mat against a familiar foe.
Much like the previous meeting on Feb. 2, fifth-ranked Gilbert dominated early in preventing a second state title appearance in three years for the Tigers. It jumped out to a 18-0 lead after two decision victories, a pinfall win by Harley Boatwright and technical win by Josh Coleman.
Ttwo wins by Swansea cut the lead to 18-9, then Gilbert ran off four-straight wins. This included three straight pinfall victories by William and Bryson Harmon and Blake Wise to put the match out of reach.
"We were confident," Gilbert head coach Mitch Hudson said. "We had wrestled Swansea a week and a half ago. Swansea did a real good job tonight. They were ready for us. Our big one was the other night and I think we were a little bit emotional the other night. Kind of drained a little bit. I don't think we wrestled bad. I think we wrestled tough. Swansea had a little bit for us, which is a good thing for us right now."
The two teams split the final four matches, two won via forfeit by the Indians (28-9).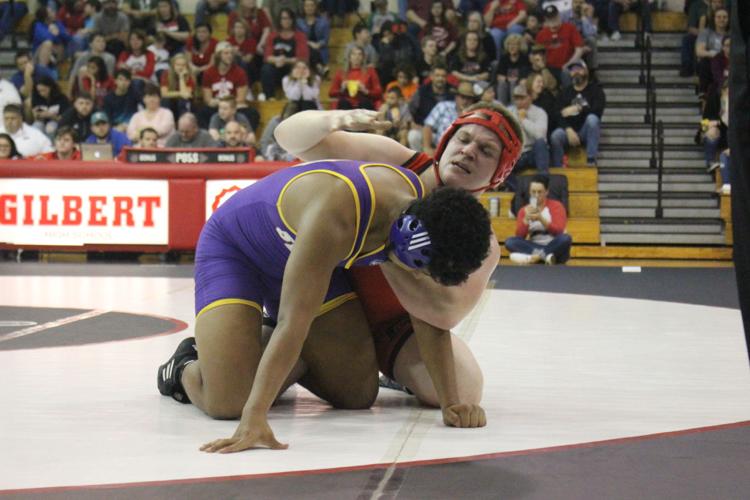 Up next is Indian Land (30-2), which held off second-ranked West-Oak 38-33 to win the Class 3A Upper State title. The Warriors rolled past the Indians 44-12 in last year's state final at Airport High School.
A year older and competing at a different locale, Hudson and the Indians are optimistic about their chances.
"Indian Land's got some good kids," Hudson said. "They're going to be really tough. They've got a lot of guys that are very experienced. We have some young guys in the lineup this year - we've got six sophomores in our lineup - that's going to play a factor in it. They're going to be going up against some guys that have been at a higher level of competition.
"We've put ourselves on the mat with (Class) 5A all year long. We've pushed ourselves to get to where we're at. We've got to push one more time. Indian Land's going to be ready for our team. They've been pushing at an elite level. We've got to match that."
Up next is Hillcrest, which trailed Lugoff-Elgin 21-9 before winning the final six matches for a 33-21 victory in the Upper State final.
White Knoll 28, Summerville 27
For the fourth consecutive post-season match, the Timberwolves and head coach Kyle Kimrey came away victorious.
This time, they had to rally late with three-straight wins to defeat the host team Green Wave in the Class 5A Lower State winner.
Cole Banks got White Knoll off to a 6-0 lead with a pinfall win. The Timberwolves led 10-3 when Summerville ran off four-straight decision wins to take the lead at 16-10.
A decision win brought White Knoll to within 16-13 before Summerville stretched its lead to 23-13 with four matches left. The Timberwolves got back-to-back pinfalls from Jason Gray and Cam Rice and a decision win to go up 28-23.
The margin of victory was enough for White Knoll to make school history as Preston Wages avoided a pinfall loss to David Rundell in the final match.
This marks the third consecutive year a Region 5-5A team has won the Lower State title. River Bluff won in 2018 and went on to claim the state title. It repeated as Lower State champion last year and placed runner-up to Hillcrest.
The Timberwolves (27-9) will now get their shot at the Rams (32-5). Hillcrest rallied from a 21-9 deficit to defeat Lugoff-Elgin 33-21 after winning the final six matches.
North Central 37, Ninety-Six 26
A second-straight trip to the Class 2A/A finals looked like a long shot for the fifth-ranked Knights.
In January, their gymnasium was decimated by a tornado and the team was forced to practice at the middle school. For the Upper State final, North Central found itself down to 11 wrestlers.
Despite having to forfeit four weight classes, the Knights managed to repeat as Class 2A Upper State champions. They will now look to avenge last year's loss to Bamberg-Ehrhardt.