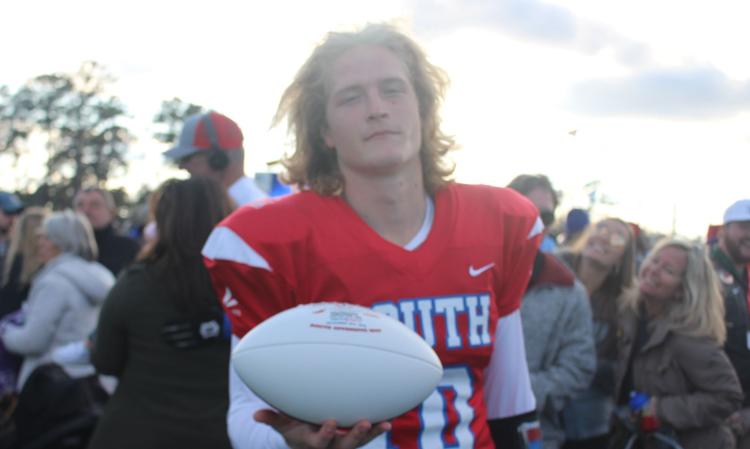 Quarterback Tyler Olenchuk's Dutch Fork High football career ended with an overtime touchdown pass.
It gave his team a fourth straight Class 5A title.
The Clemson-bound baseball pitcher added to his comeback legacy Saturday.
He threw two fourth quarter touchdown passes for the South for a 35-13 win.
Olenchuk's scores were part of a 28-0 run by the South at Doug Shaw Memorial Stadium. He finished 13-27 passing for 219 yards and earned South Offensive Most Valuable Player Honors.
"It's awesome," Olenchuk said. "It's the best way I could have asked for to go out."
The North took a 7-0 lead with 7:58 in the first quarter. In a wildcat formation, Wren's Tyler Cherry and Gray Collegiate Academy wide receiver Omarion Dollison connected on a 95-yard touchdown pass play down the North sidelines.
A 20-yard field goal by Dylan Beauford of Abbeville extended the lead to 10-0 before halftime. During the intermission, Myrtle Beach quarterback and University of South Carolina signee Luke Doty was named the 2019 "Mr. S.C. Football" out of a seven-player field that included Dutch Fork wide receiver Jalin Hyatt.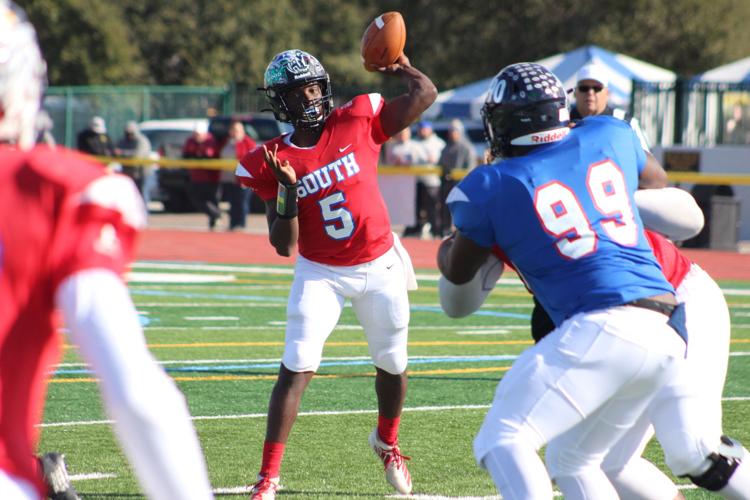 After getting stopped a yard short of the goal line on an earlier drive in the third quarter, Airport's Nanders Lawrence put the South on the board with 1:24 left in the third quarter. On a reverse with Gilbert quarterback Jy Tolen, Lawrence reached the endzone this time from three yards to make it 10-7.
Beauford hit a 33-yard field goal 17 seconds into the fourth quarter to put the North up 13-7. The South dominated from that point as Olenchuk drove the team downfield and converted a 3rd and 20 pass into a 30-yard touchdown pass to Marion's D'Vonte Allen to give it the 14-13 lead after the PAT.
The North was forced to punt on its next series. However, the kick was helmet-blocked by a charging Emmanuel Johnson of Fort Dorchester and recovered by Gilbert's Alec Holt at the North 20.
Holt, who played defensive back for most of the second half, was second on the team in tackles with seven.
The South capitalized with a four-yard rushing TD by Wade Hampton's De'Shareoh Williams to extend its lead to 21-13 with 6:24 left.
Helms, who finished with 165 passing yards and three interceptions, looked to answer for the North. He led it into South territory, including a fourth down conversion to Eli Wilson.
The South defense forced a change of possession. Olenchuk proceeded to fire a 71-yard completion to Waccamaw's Tyree Funnye that set up his eight-yard touchdown pass to Bluffton's Rakin White with 2:02 left.
With the North backed up at its own one, the South's Terry Fields of May River put the finishing touches on the victory with an interception return for a touchdown with 46 seconds left.