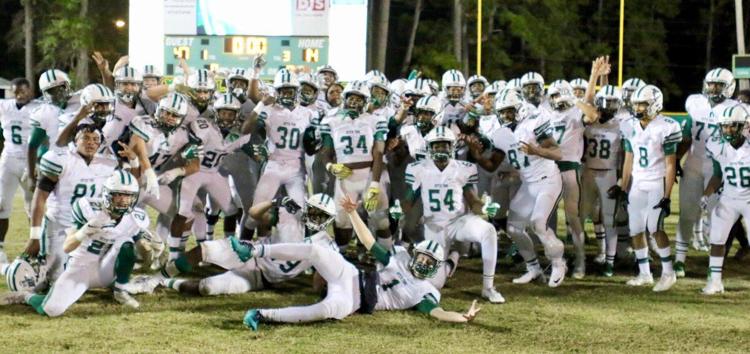 The four-time defending Class 5A football champions Dutch Fork open another season at the top of its classifications.
The Silver Foxes received all 10 first place votes in the SC Prep Football Media preseason rankings.
They enter the 2020 season having gone 40 consecutive games without a loss, 39 straight wins against Palmetto State teams and will look to extend winning streaks of 25 straight on the road and 23 in region play in Friday's season-opener at White Knoll.
Spring Valley and River Bluff placed sixth in a tie with Sumter and 10th, respectively, in the Class 5A preseason poll. The Vikings will open at Northwestern, while the Gators' regular season opener against Lexington was postponed until Nov. 6 and Oct. 2 game against South Aiken cancelled after three people associated with the program tested positive for COVID-19.
Also receiving a first place vote in Class 4A was AC Flora. The Falcons placed fifth in the preseason rankings and will open the season at Westwood in the WACH 57 Sonic Friday Night Rivals Game of the Week.
Brookland-Cayce opened the season ranked eighth in Class 3A. The Bearcats are making their return to the classification and open the season at Fox Creek.
Gilbert and Batesburg-Leesville also received votes in its respective classifications.
In Class 2A, Gray Collegiate received a first place vote and tied for second with Barnwell in the poll behind Abbeville. The War Eagles open the season against Batesburg-Leesville at Midlands Sports Complex.
SC PREP FOOTBALL MEDIA PRESEASON RANKINGS
(Class 5A)
1. Dutch Fork (10)
2. Dorman
3. Gaffney
4. Fort Dorchester
5. Byrnes
6. (tie) Sumter
Spring Valley
8. Goose Creek
9. T.L. Hanna
10. River Bluff
Also receiving votes: Rock Hill, Clover, Carolina Forest, Ridge View, Mauldin, Berkeley, Conway, Northwestern, Hillcrest
(Class 4A)
1. Myrtle Beach (7)
2. South Pointe
3. Hartsville (2)
4. Greenville (1)
5. AC Flora (1)
6. Greenwood
7. Wilson
8. Greer
9. North Myrtle Beach
10. Laurens
Votes: May River, North Augusta, Eastside, West Florence, Beaufort, Walhalla, Westwood, Westside, Indian Land
(Class 3A)
1. Dillon (7)
2. Wren (2)
3. Chapman
4. Daniel
5. Camden (2)
6. Chester
7. Belton-Honea Path
8. Brookland-Cayce
9. Union County
10. (tie) Strom Thurmond
(tie) Oceanside Collegiate
Votes: Gilbert, Woodruff, Aynor, Wade Hampton, Lake City, Lower Richland
(Class 2A)
1. Abbeville (5)
2. Barnwell (1), Gray Collegiate (1)
4. Newberry
5. Saluda (2)
6. Timberland (1)
7. Cheraw
8. Chesnee
9. Central
10. Andrews
Votes: Marion, Legion Collegiate, Batesburg-Leesville, Andrew Jackson, Mullins, Blacksburg, Latta, Woodland