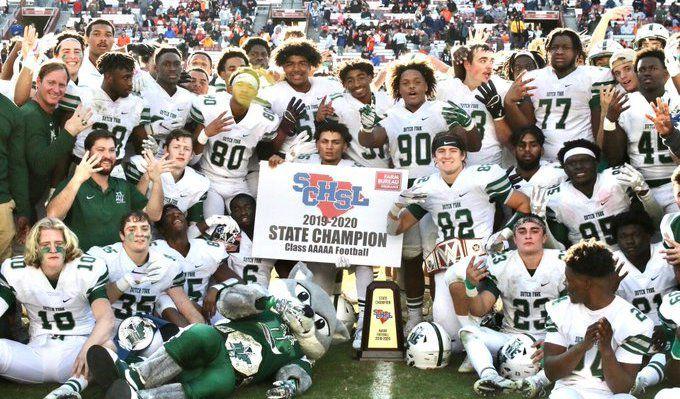 Ty Olenchuk's 10-yard touchdown pass to Jalin Hyatt in overtime lifted Dutch Fork to a dramatic 34-31 victory over Dorman Saturday in the Class 5A final at Williams-Brice Stadium.
A University of Tennessee commit, Hyatt caught three touchdown passes from Olenchuk, a Clemson baseball signee.
Olenchuk completed 15-30 passes for 236 passing yards and four TDs. Hyatt finished with seven receptions for 165 yards.
The duo helped Dutch Fork jump out to a 14-0 lead. It was just 13 seconds into the game on the opening snap when Olenchuk found Hyatt at the 35 and he turned upfield and down the sidelines for a 80-yard score.
This was the sixth time this season the Clemson baseball signee and University of Tennessee commit connected on an opening score.
After Dutch Fork defensive lineman Rasheed Rucker recovered a fumble at the 37, Olenchuk and Hyatt connected again on a seven-yard touchdown pass play to cap an eight-play, 63-yard scoring drive with 6:25 left in the first quarter.
The Cavaliers answered with 21 unanswered points. Lee found Nathan Storch for an 11-yard touchdown pass with 2:07 left in the first quarter and then capped a 12-play, 80-yard scoring drive with a 13-yard touchdown run.
In the third quarter, Lee scrambled out of trouble and found Kendall Norman for a 53-yard touchdown to put the Cavaliers ahead 21-14.
Dutch Fork turned to its running game to rally back. Senior Jon Hall broke free for a 57-yard run to set up his seven-yard reception to tie the game with 7:21 left in the third quarter.
Dorman (14-1) capitalized off the first of two consecutive interceptions thrown by Olenchuk to take the lead on Jayvon Hall's 16-yard touchdown reception from Lee.
Back up at its own five, Dutch Fork embarked upon a 12-play, 95-yard game-tying scoring drive. Olenchuk and Hyatt connected on two critical third down conversions and Hall scored from 18 yards to tie the game again with 4:16 left.
It was Hall's 37th rushing TD of the year and he finished with 189 rushing yards.
"That was the biggest drive of the season, no doubt," said Olenchuk, who acknowledged needing his teammates to pick him up following the back-to-back interceptions. "We're backed up at our own five, forced to punt if we got fourth down. Big third down play to Jalin. Jalin made a great catch. Definitely a big drive for us."
Both teams were unable to score at the end of the regulation. Dorman took the ball to start overtime and Omar Khan connected on a 25-yard field goal to put the Cavaliers up 31-28.
After an incomplete pass to Hall on first down, Olenchuk drew a fade route to Hyatt who managed to snag the ball just inside the right end of the goal line for the game-winner.
Dutch Fork (13-0-1) becomes the seventh team in school history to win four straight titles. It was also their 40th straight game without a loss, 39th consecutive win over a South Carolina-based team and 20th consecutive playoff victory.
In addition, the senior class finished with a 55-1-1 record. The lone loss was in 2017 to Fort Dorchester and the tie occurred in this season's opener versus Mallard Creek.
"I'm already starting thinking," said Knotts about winning a state record fifth consecutive title after claiming his 12th overall in North and South Carolina. "I'm going to take this weekend off, Sunday off and Monday I'll be getting back to work."