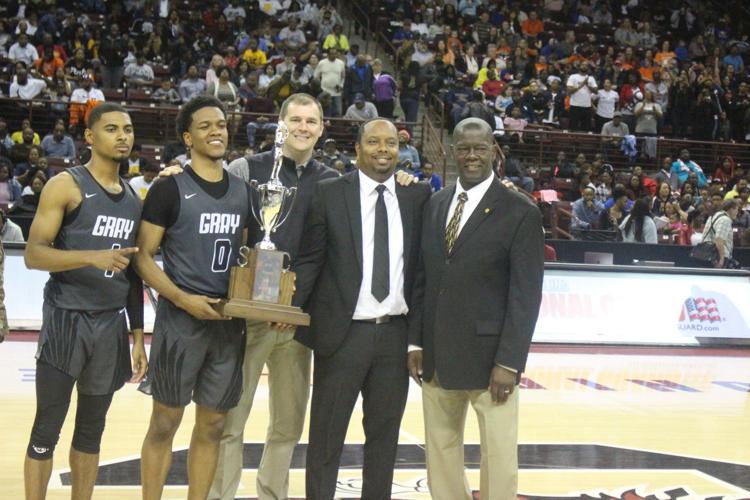 Defending state boys' basketball champions Ridge View, Keenan and Gray Collegiate are once again considered the teams to beat going into the 2019-20 season.
All were selected as the preseason number one teams in their respective classifications by the S.C. Basketball Coaches Association.
"We don't work for preseason rankings, our goals are to continue to be elite in academics, scholarships and winning three (in a row)," Gray Collegiate head coach Dion Bethea said. "We have always had the target on our back we just need to stay focused and continue to work together."
The Gray Collegiate girls were ranked in the preseason Class 2A poll at eighth.
Dutch Fork had two teams ranked in the preseason Class 5A poll. The boys' team was ranked seventh behind third-ranked Blythewood and fifth-ranked Irmo and the Lady Silver Foxes were ninth.
The Airport girls were also ranked ninth in Class 4A behind third ranked Westwood, seventh ranked Lower Richland and eighth ranked Ridge View.
The Blazers sat top the Class 4A boys rankings as well both Keenan boys and girls teams in Class 3A, while the Swansea girls opened at 10th.
In addition, Ridge View's Ja'Von Benson, A.C. Flora's Patrick Iriel and Blythewood's Julian Phillips were selected to the SCBCA Elite Boys' team. Westwood's Nyah Leveretter and Keenan's Milaysia Fulwiley were selected to the SCBCA Elite Girls' team.
Ridge View's Cincere Scott and Westwood's Ja'La Wade were selected as the top seniors in Class 4A, Keenan's Raekwon Horton was picked in Class 3A and Gray Collegiate's Tauris Watson and Columbia's India Porter were the top seniors in Class 2A.
S.C. BASKETBALL COACHES ASSOCIATION'S PRESEASON TOP 10 RANKINGS
(BOYS)
CLASS 5A
1. Dorman, 2. Mauldin, 3. Blythewood, 4. Wade Hampton (G), 5. Irmo, 6. South Florence, 7. Dutch Fork, 8. James Island, 9. Ashley Ridge, 10. Northwestern
CLASS 4A
1. Ridge View, 2. Wren, 3. Greenville, 4. Travelers Rest, 5. North Augusta, 6. Lower Richland, 7. Myrtle Beach, 8. Marlboro County, 9. Lancaster, 10. Orangeburg-Wilkinson
CLASS 3A
1. W.J. Keenan, 2. Marion, 3. Chester, 4. Manning, 5. Wade Hampton, 6. Union County, 7. Seneca, 8. Georgetown, 9. Edisto, 10. Chapman
CLASS 2A
1. Gray Collegiate, 2. Andrew Jackson, 3. Mullins, 4. Oceanside Collegiate, 5. Christ Church, 6. Saluda, 7. Woodland, 8. Abbeville, 9. North Charieston, 10. Lee Central
(GIRLS)
CLASS 5A
1. J.F. Byrnes, 2. Dorman, 3. Sumter, 4. Woodmont, 5. Goose Creek, 6. James Island, 7. Summerville, 8. Clover, 9. Dutch Fork, 10 (tie). Carolina Forest/Wando
CLASS 4A
1. North Augusta, 2. South Pointe, 3. Westwood, 4. Wilson, 5. North Myrtle Beach, 6. Orangeburg-Wilkinson, 7. Lower Richland, 8. Ridge View, 9. Airport, 10. Darlington
CLASS 3A
1. W.J. Keenan, 2. Manning, 3. Bishop England, 4. Dillon, 5. Marion, 6. Southside, 7. Seneca, 8. Emerald, 9. Woodruff, 10. Swansea
CLASS 2A
1. Christ Church, 2. Mullins, 3. East Clarendon, 4. Lee Central, 5. Saluda, 6. Woodland, 7. Buford, 8. Gray Collegiate, 9. Andrew Jackson, 10. Barnwell