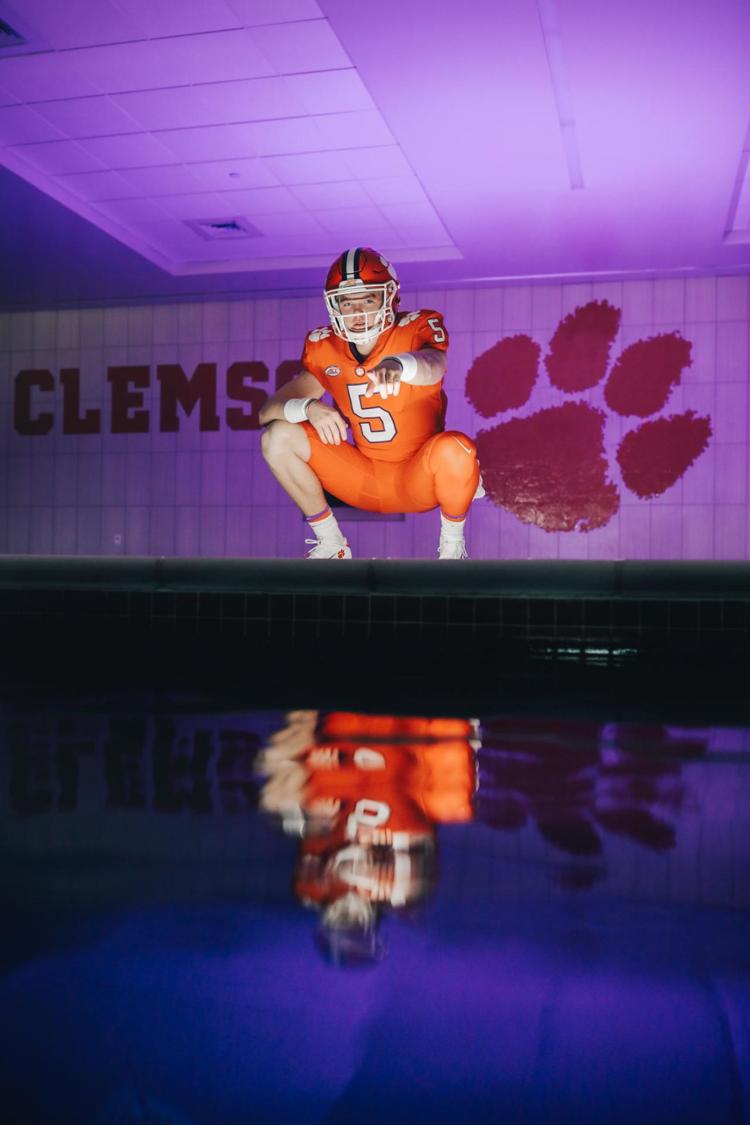 Nearly 50 talented senior athletes in Lexington County and the town of Irmo put their signatures on national letters of intent Wednesday.
Among the most notable signees was Gray Collegiate quarterback Hunter Helms. After initially committing with Holy Cross, he reopened the search and narrowed it to Clemson and South Florida.
In front of media and joined about other GCA signees, Helms announced his plans to sign with the Tigers.
For Helms, it was all about following his heart and choosing his "dream school".
"It's all about family up there (Clemson) and it has been my dream school since I can remember," Helms said in a press release. "Coach (Dabo) Swinney and his staff have created a great culture and there's really no place like Clemson. I already have great relationships with most of the coaches and I'm looking forward to building upon that."
Increased interest from Clemson encouraged Helms to reopen his college search. Assistant coach Brandon Streeter kept in touch with Helms and after his family prayed on the decision, it all came back to signing with the Tigers.
Helms broke every career and single season passing record with the two-time Region 3-2A champion War Eagles. During his senior year, Helms completed 234-305 passes for 4,126 yards and 48 touchdowns.
Helms finished his career with a 25-11 record with 9,329 passing yards and 98 TDs.
He's one of two Midlands quarterbacks headed to the Upstate. Dutch Fork quarterback Ty Olenchuk signed in December with Clemson to play baseball.
"I've always wanted to compete at the highest level and this gives me that opportunity," said Helms, who plans to major in business/finance or civil engineering. "I'm 'All In' and can't wait to get to Tiger Town."
BATESBURG-LEESVILLE
Keshoun Williams - Newberry (football)
BROOKLAND-CAYCE
Drew Weed and Tradd Castles - Newberry (football)
Brian Mims, K.J. Blackmon and Malachi Brown - Erskine (football)
CHAPIN
Noah Davis - Toccoa Falls (baseball)
Jarrett Whitley - USC/Sumter (baseball)
Garrett Huyck - William & Mary (football)
Josh Taylor - Gardner-Webb (football)
West Hiller - Erskine (football)
DUTCH FORK
Ta'chawn Brooks and Jon Hall - Independence CC (football)
Tyrik McDaniel - Old Dominion (football)
Graham Newboult - North Greenville (football)
Trey Irby - Newberry (football)
DiMarco Johnson - Akron (football)
Jarvis McClurkin - Shaw (football)
Rasheed Rucker - Mars Hill (football)
Alyssa Bruss - Central Methodist (softball)
Tenley Hartford - St. Andrews (softball)
William Reid - Newberry (soccer)
Paul Jones and Damon Williams - Akron (soccer)
GRAY COLLEGIATE
Hunter Helms - Clemson (football)
Wheslen McCleod - S.C. State (football)
Caleb Moore- Limestone (football)
Noah Powell- Presbyterian (football)
Lynsey Bryant - (track and field)
GILBERT
Jy Tolen - Gardener Webb (football)
Jacob Smith - Limestone (football)
Alec Holt - Wofford (football)
Sully Hooper - Spartanburg Methodist (golf)
Jackson Reeves - Spartanburg Methodist (golf)
Madison Pride - North Greenville (softball)
Barrett and Brennen Crout - Spartanburg Methodist (wrestling)
Kaylee Barnes - Spartanburg Methodist (soccer)
RIVER BLUFF
Brooks English - Mars Hill (soccer)
Ethan Haworth- U Of Alabama @ Huntsville (soccer)
Maddie Poole- Wofford (soccer)
Braden Walker - Citadel (football)
Lorna Stacherski- Wingate (volleyball)
SWANSEA
Michael Jones - Limestone (football)
Jaquay Mills - Shasta Community College (football)
Pryce Whitten - Newberry College (football)
Carlie Branham - Erskine (soccer)
WHITE KNOLL
Luis Orellano - Chowan (football)
Courtney Stamm - Columbia College (soccer)
Nick Taiste - S.C. State (football)
(PHOTO | TODD HELMS) Gray Collegiate Academy quarterback Hunter Helms will attend Clemson University.