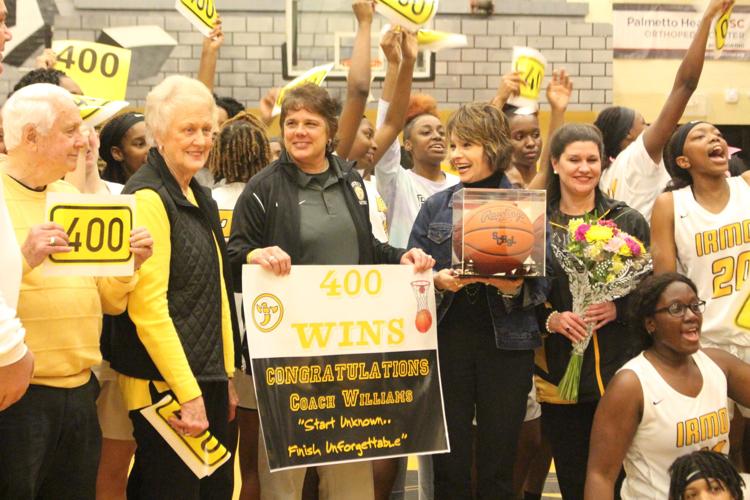 The 400 career win club for S.C. High School League girls' basketball coaches welcomed its newest member Friday at the Temple of Doom.
Monica Williams reached the milestone following her third-ranked Lady Yellow Jackets' 65-31 victory over Dutch Fork in the "Battle of Irmo".
Irmo took control from the outset, jumping out to a 18-6 lead at the end of the first quarter. It would increase to 40-13 at halftime as Ehrial Wagstaff and Maliyiah Mason nearly individually outscored the Lady Silver Foxes in the first half.
Both finished with 17 points to lead the Lady Yellow Jackets (15-3, 3-0) to their fifth straight win.
By the end of the third quarter, fans and former players began passing out '400' flyers in the stands. Once the game ended, Williams and the team posed with a special poster commemorating the achievement and Lexington-Richland District Five officials presented her an encased game ball.
"I had no clue," said Williams about whether she thought about reaching 400 career wins when she took over the Irmo program 20 years ago. "No. I did not. Twenty-three years have been coaching and this one is special for sure. I'm going to enjoy it."
Williams quickly turned her attention to Tuesday's critical Region 4-5A road game at fifth-ranked Sumter. The two teams are tied for first place in the lost column.
"That's going to be a tough one for us," she said. "So, hopefully we'll carry a lot of momentum from this game to Tuesday night."
Precious Hall had nine points to lead Dutch Fork (7-10, 1-2) which visits White Knoll on Tuesday.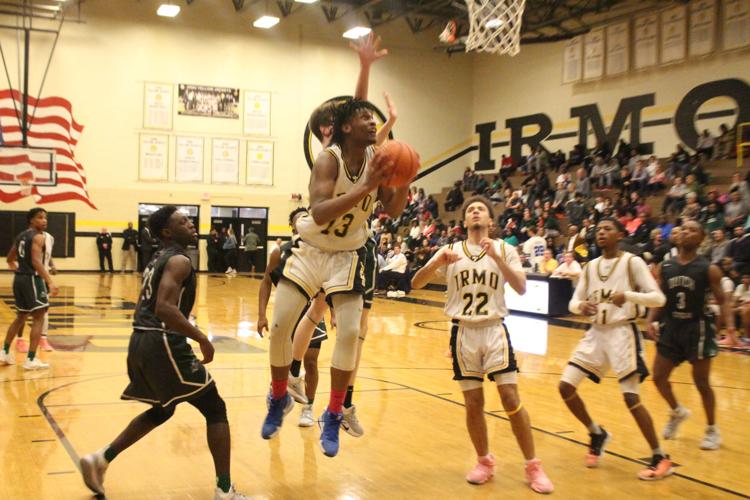 BOYS BASKETBALL
Irmo 55, Dutch Fork 44
Dylan Williams scored six of his game-high 23 points as part of a game-ending 13-2 run to lead the fourth ranked Yellow Jackets over the seventh ranked Silver Foxes.
Williams opened the first quarter with 13 points in helping Irmo jump out to a 16-4 advantage. After Dutch Fork answered with an 8-0 run, the Yellow Jackets scored six unanswered points capped by a buzzer-beating three-pointer by Williams to close out the first quarter up 22-12.
Irmo extended its lead as many as 13 points in the first half.
The second half saw the Silver Foxes mount a comeback. They outscored Irmo 15-5 in the third quarter and took a 39-36 lead.
Irmo scored the first four points of the fourth quarter to take the lead for good. The team was tied at 42-42 when Dylan Williams connected on a three-pointer and he and C.J. Washington, who along with Xavier Forest, had 10 points each, scored back-to-back layups to put the game out of reach.
It was the 773rd career win for Irmo head coach Tim Whipple. He is the active SCHSL leader in victories and second all-time behind Great Falls' John Smith.