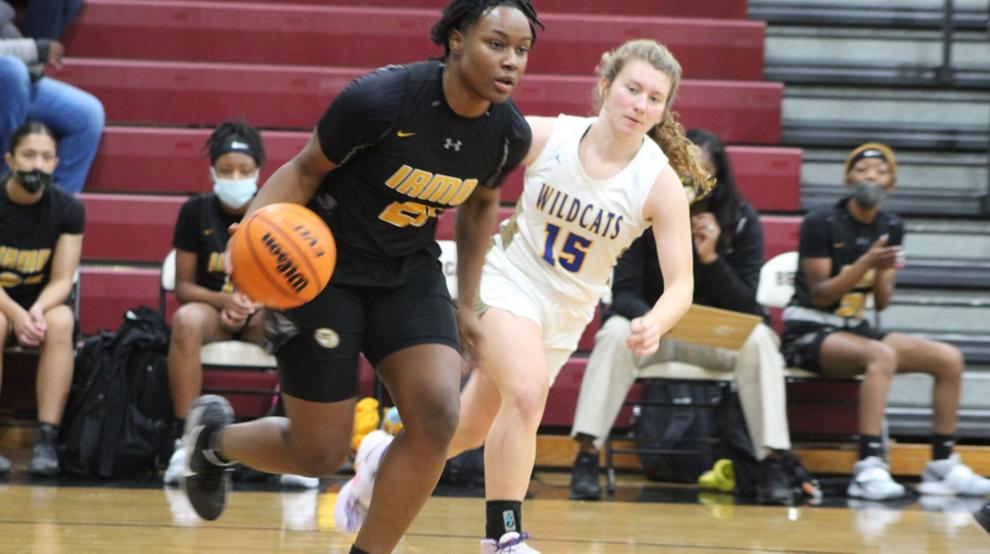 Saturday's East Division final of the "She Got Next" tournament at Brookland-Cayce High School was a tale of two halves for Irmo.
Ranked fifth in Class 4A, the Lady Yellow Jackets held a commanding first half lead over preseason Class 5A Lexington.
The second half saw them hold off a furious comeback by the Lady Wildcats without sophomore standout Maliyiah Mason to win 58-46.
Mason had 17 points in earning bracket MVP honors. She did foul out midway in the second half after receiving a technical for her fifth personal.
Helping to stave off Lexington, who got a game-high 24 points from junior Alexis Sexton, were Meghan Davenport with seven of her nine points in the final 10 minutes.
"I knew that Lexington wasn't going to lay down," Irmo head coach Monica Williams said. "I knew they were going to make a run. They're too good of a team. They've got too much heart, too much desire and they've got an excellent coach (Molly Goodrich). So I knew they weren't going to lay down. They were going to give it to us in the second half."
Irmo scored the game's first seven points and it enjoyed a 7-0 lead as its fullcourt defense forced Lexington into turnovers.
Mason dominated the paint on both ends with 13 first half points. The lead stretched as many as 21 points before Sexton's three-pointer to end the first half cut Irmo's lead to 37-19.
"Our defense was the key," Williams said. "I knew we had to press them because we just can't let them get into a rhythm, especially not with Alexis. She's such a terrific basketball player and we just had to keep them off-balanced a little bit. That's why we pressed them the entire game because we couldn't let her go off."
The Lady Yellow Jackets (2-0) were up 46-26 with 10:24 when Mason was called for her fourth personal foul. As Lexington prepared for the free throw, Mason was whistled for a technical that send her out of the game.
Without Mason, Irmo fought off a rejuvenated Lexington. Sexton had 13 second half points, but still managed to keep its lead in double digits.
The victory capped a winning day for Lexington-Richland District Five schools. Prior to the Irmo/Lexington game, Dutch Fork defeated Wilson 55-51 to win the West Division title and improve to 2-0 on the season.