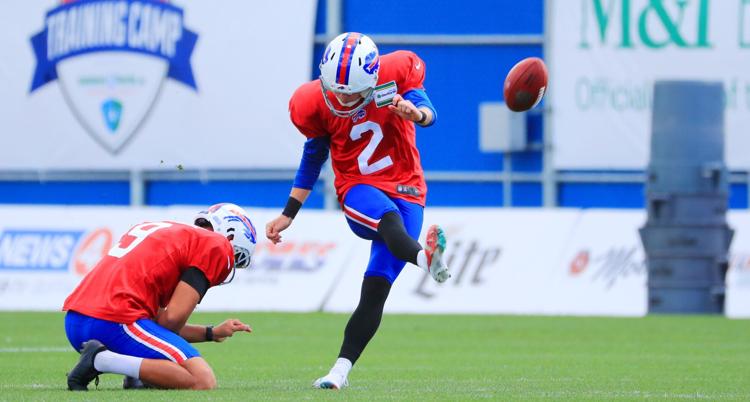 Tyler Bass' dream to kick in the NFL is now a full-blown reality.
The Dutch Fork High School graduate was officially named the starting kicker of the Buffalo Bills. The release of veteran Stephen Hauschsa last Thursday and Bass' performance during training camp paved the way for the sixth round draft pick out of Georgia Southern to make his pro debut in the Sept. 13 season-opener against the New York Jets at New Era Field.
"My mentality started when I was in high school," Bass told buffalobills.com. "I didn't have a whole lot of offers coming out, actually I didn't have any offers coming out, so I had to walk-on to Georgia Southern. I had to earn everything I had there, nothing has been handed to me in life, and I had to earn that. I came to camp with the same mentality, I knew I wasn't the number one guy coming in, and I had to earn that right and the respect. Now that I have the job, I still feel like I haven't proven anything, I've haven't even played a game yet. I'm still going to do everything I can to be the best I can be to help this team and take it one day at a time."
Bass first caught the attention of the Bills during the Senior Bowl when he was 2-2 on field goals and 4-4 on PATs. While impressed with Bass' big leg, special teams coach Heath Farwell wants to see more consistency in his kicks from long distance.
"I've had this conversation several times with him," Farwell said. "He has the big leg and of course as a young player, he wants to hit all these long kicks. I say that's not what wins you the job, and that's not what's going to keep this job. It's what you do from 40 to 49, that's always been the emphasis and that hasn't changed he since he got the job on day one."
"It's important," Bass said. "and I want to emphasize that from 40 to 49 yards and even from 30 to 49 yards, those are going to be the majority of your kicks. They all know distance is good but you're not going to have as many kicks from 35 as you will between 40 and 49 yards. So, the only way for me to be better, and to do my job is to be consistent from there."