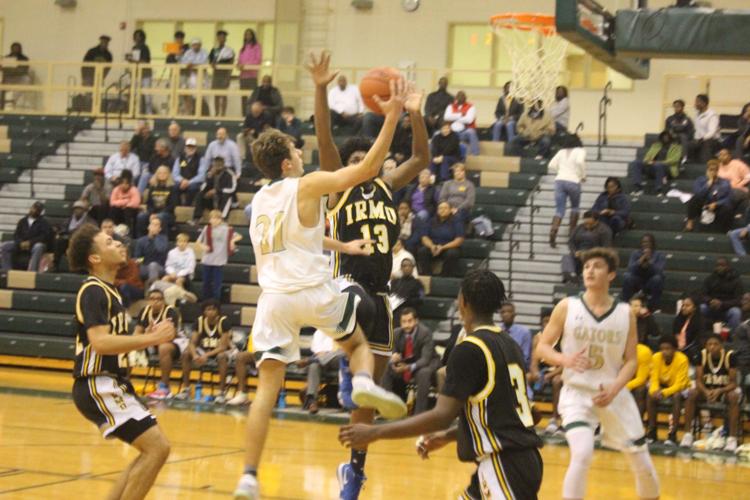 The setting in The Swamp Tuesday featured a matchup between a pair of Top 10 Class 5A teams.
For the head coaches and fans, the game proved frustrating to watch and enjoy. Fourth-ranked Irmo defeated sixth-ranked River Bluff 50-44 in a contest bogged down by fouls.
The two teams combined for 40 personal fouls and 48 free throws. A total of 31 fouls were called in the second half, 16 by the Gators with the Yellow Jackets whistled for two technical fouls.
C.J. Washington fouled out in the third quarter for Irmo. He and Dylan Williams led the Yellow Jackets with 13 points.
Irmo head coach Tim Whipple declined to speak afterwards about the officiating. Despite the win, he was more concerned about his team's level of play as they prepare to enter the Region 4-5A portion of the schedule.
"I would say that this group has not progressed like I would liked out on the floor with execution and doing the things that they need to if they're going to be able to compete and get into the playoffs and compete there," Whipple said. "But at the same time, we're finding a way to win no matter how ugly it is and I think that's an important thing in a team that they're going to do whatever it takes."
River Bluff gained as many as 12 points and went the entire second quarter without a field goal. Josh Crenshaw kept the Gators close with a game-high 18 points, followed by Myles Jordan with 13.
In the fourth quarter, Khari Felder helped pick up the offensive load for Irmo. After the Gators got within five, he scored 5 of his 7 points in succession to push the lead back to double digits.
Irmo (11-3) travels to Chapin Friday, while River Bluff (11-4) heads to Fort Mill.
(GIRLS BASKETBALL)
River Bluff 57, Irmo 52
Eighth-grade guard Samira Khalil scored a team-high 18 points and senior point guard Japonica Wilson added 14 to lead the Lady Gators over the seventh-ranked Lady Yellow Jackets.
The victory avenged a 20-point loss at The Temple of Doom Dec. 3 and gave River Bluff (7-4) as many wins as it had the combined previous three seasons.
River Bluff won despite a game-high 24 points and 10 rebounds from Maliyiah Mason and 16 points from Jayla Lovett for the Lady Yellow Jackets (10-3).
With Khalil in the lineup this time after missing the first meeting with the Lady Yellow Jackets due to a concussion, the Lady Gators rallied from a three-point deficit in the third quarter. They outscored Irmo 24-16 in the fourth quarter, 10 coming from Wilson.