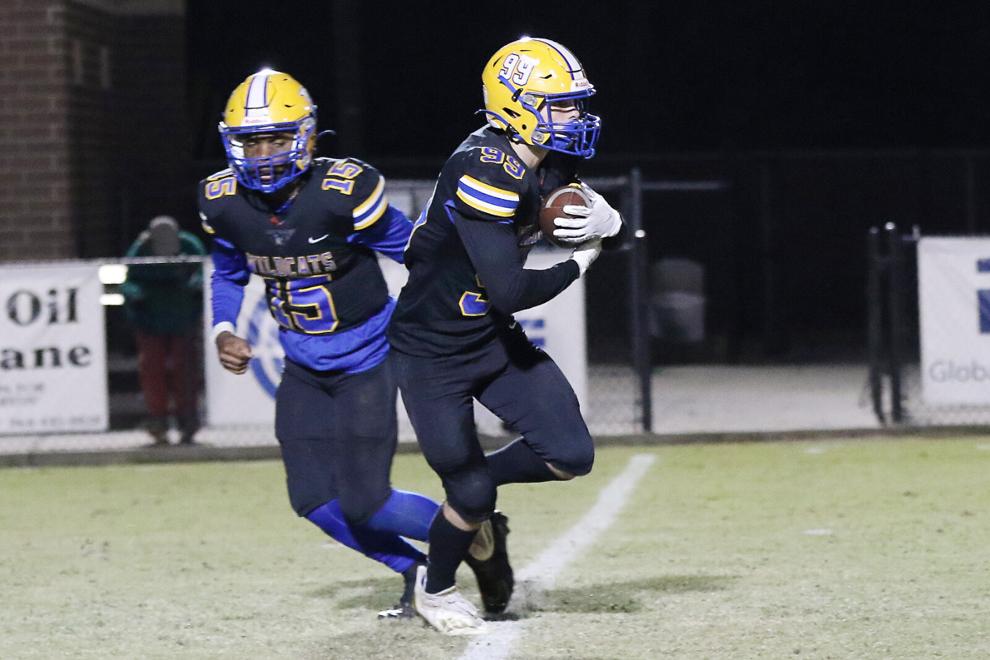 The Lexington High School football team took its brand of "Mudcat Football" on the road and earned a 28-14 second-round victory over Goose Creek.
After falling behind 7-0 following the Gators' first series, Lexington answered back with 28 unanswered points. Tyler Walker tied the game in the first quarter with one of his two touchdown runs.
The game remained deadlocked at halftime. On the third play from scrimmage to open the second half, Walker broke free for a 66-yard touchdown run to put the Wildcats ahead 14-7.
Goose Creek fumbled the kickoff over to Lexington at its own 27. After a five-yard run, Keshawn Gladden scored from 22 yards to extend the lead to 21-7 less than 58 seconds into the third quarter.
The Wildcats put together another scoring drive, with quarterback Taiden Mines finding Kamadi Maxwell for a 34-yard touchdown to make it 28-7 in the third quarter.
Goose Creek scored midway in the fourth quarter. Lexington forced the Gators to turnover on downs their last two possessions.
Lexington (10-2) travels to Fort Dorchester for round three.
Hammond 56, Porter-Gaud 3
Michigan commit CJ Stokes rushed for 176 yards and two touchdowns as the Skyhawks advanced to the SCISA 3A championship to face Trinity Collegiate School.
The final will take place Friday at 7 pm at Charleston Southern University.
Greenville 28, AC Flora 27
Prometheus Franklin hit Tyler Brown on a four-yard pass with 28 seconds left in the game Friday night to lift the Red Raiders past the defending Class 4A champions.
Chris Lofton had a 75-yard touchdown return and Tyrell Green and Markel Townsend both had touchdown runs for the Falcons.
Dutch Fork 56, Cane Bay 0
The Silver Eagles (10-0) extended their undefeated streak to 60, won their 59th consecutive game against an in-state opponent and extended their state record playoff win streak to 26.
The number 60 is symbolic for Dutch Fork, which has dedicated the season to late offensive lineman Jack Alkhatib. He wore number 60 for the Silver Foxes.
Green finished the night with 12 carries for 97 yards and four touchdowns. Antonio Williams had six catches for 107 yards and two touchdowns. Patterson ended the game 12-14 passing for 192 yards and four touchdowns.
Up next for Dutch Fork is a return visit to Sumter for the third round. The two teams met last year in the Lower State final won by the Silver Foxes.
Gray Collegiate 58, Crescent 0
The matchup high school football fans have waited for will now take place.
Defending Class 2A champion Abbeville and Gray Collegiate have ranked 1-2 the entire 2021 season.
The two teams won their respective second-round games Friday to set up the long-awaited meeting in round three.
Senior running back KZ Adams set the tone early with two touchdown runs of 50-plus yards on his first two carries of the game. The Georgia State commit added two more touchdowns and finished with 247 yards.
The War Eagles also got passing touchdowns from Riley Staton and Tre Staton, a blocked punt returned for a score by Zach Glenn and 10-yard rushing touchdown by Caleb Ford. The win set a school record for victories by Gray Collegiate, which now looks to upend an Abbeville team with the state's second longest winning streak at 23 games.
Brookland-Cayce 28, Hanahan 27
Nazzhzekiel Mays scored three touchdowns and the Hawks missed a game-tying PAT in the second round contest.
The Bearcats will now play host to Camden in the third round of the Class 3A playoffs.
Fort Dorchester 44, Chapin 21
Playing without leading running back Bennett Galloway, the Eagles saw their season come to and end at the hands of the Patriots.
Wide receiver Zavier Short accounted for all three touchdowns for Chapin (7-4). He gave the Eagles a 7-0 lead with a one-yard touchdown run, caught a touchdown pass from placeholder Brady Albro on a fake field goal and closed the game with a 73-yard touchdown reception.
Chapin finished the post-season with the distinction of having won a football playoff game in every classification.
Oceanside Collegiate 36, Gilbert 28
Vaughn Blue scored on a seven-yard touchdown with 2:50 left and Carson Arnold returned an interception for a touchdown 19 seconds later to seal the win for the Landsharks at Johnson Hagood Stadium.
Chance Jennings threw for 169 yards and two touchdowns for the second straight week, but threw two interceptions. Alias Graham-Woodberry rushed for 99 yards. [
Ridge View 47, Hillcrest 41
Quarterback Andre Washington threw for 334 yards and accounted for five touchdowns (4 passing, 1 rushing) to lead the Blazers.
Zion Agnew and Josh Holmes both accounted for two touchdowns for Ridge View, who next travel to Spartanburg.
Irmo 42, Westside 20
DeAree Rodgers caught three touchdowns from Izayah Whiteside, rushed for two scores and had an interception return for a touchdown to lead the Yellow Jackets.
The victory advanced Irmo to the third round of the Class 4A playoffs for the first time since 2010. They will travel to Greenville.
Clinton 48, Lower Richland 34
Robert Adams III accounted for nearly 200 total yards of offense and three touchdowns and Jeremy Barney had 180 rushing yards and two touchdowns in the loss.
OTHER PLAYOFF SCORES
Camden 13, Aynor 0
Abbeville 49, Saluda 34
Southside Christian 42, CA Johnson 14
Spartanburg 37, Spring Valley 29