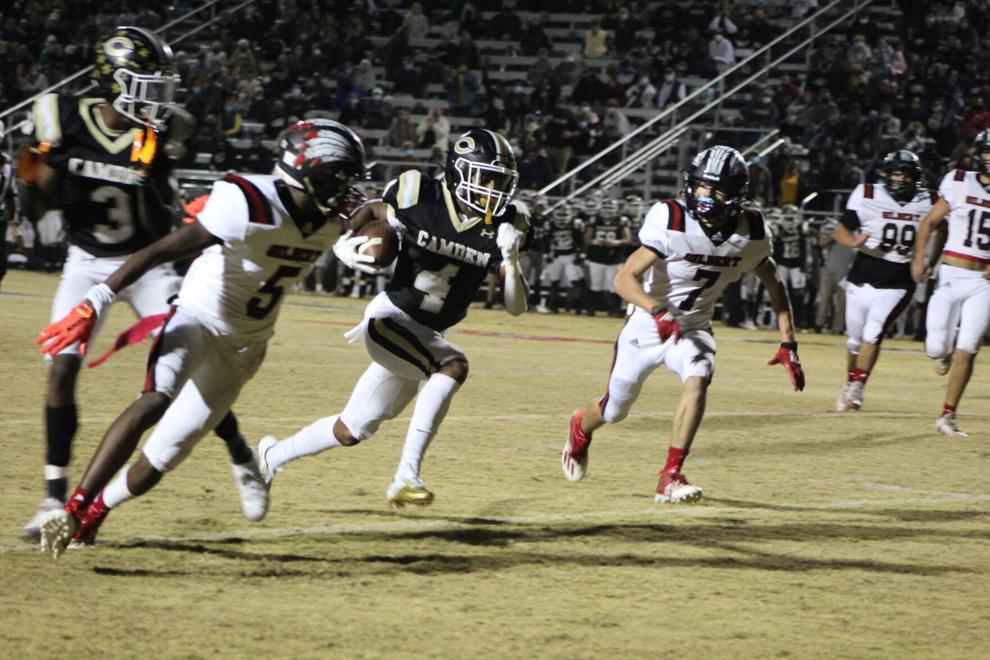 This year's "Weekend of Champions" will have an even more Midlands feel to it.
Dutch Fork, AC Flora and Camden reached their respective state finals following dominant performances in the Lower and Upper State finals:
Dutch Fork 24, Sumter 0
Quarterback Will Taylor accounted for 303 total yards and three of his team's touchdowns in the school's 5th straight Class 5A Lower State finals' win.
His 23-yard touchdown run put Dutch Fork on the board. A field goal by Furkan Unlutaskiran made it 10-0 at the half.
An interception in the third quarter set up a 33-yard touchdown pass by Taylor to Elijah Spencer.
With 1:37 left in the third quarter, Taylor found Antonio Williams for a 83-yard touchdown. Taylor finished with 213 passing yards and 90 rushing yards.
After allowing 42 points last week to Carolina Forest, the Silver Foxes' vowed not to repeat that effort against Sumter. It lived up to its word, forcing three turnovers, allowing just 10 passing yards and putting together a fourth quarter goal line stand at its own one to preserve Dutch Fork's 14th shutout win since 2016.
Dutch Fork (9-0) extended its unbeaten streak to 49 games. It was also their 48th consecutive win over in-state teams and 23rd straight playoff victory.
Standing in the way of history is TL Hanna. The Yellow Jackets defeated Northwestern 28-24 to set up a rematch in the state finals from two years ago.
Dutch Fork trailed TL Hanna before scoring 42 unanswered points in a 59-20 victory at Williams-Brice Stadium. This year's contest will take place on the campus of Benedict College at 7:30 p.m. Friday.
AC Flora 42, Catawba Ridge 21
For the first time in the 61-year history of AC Flora football, the program is playing for a state title.
The Falcons (8-0) got 161 rushing yards and four touchdowns from running back Matt Pack and 114 yards and a touchdown from Terrell Coleman.
AC Flora seeks to become the first Richland School District One team to win a state title since Lower Richland did in Class 4A in 1970. They will face North Myrtle Beach in the title game at 7:30 pm Saturday at Charlie W. Johnson Stadium on the campus of Benedict College.
Camden 58, Gilbert 7
The last time the Bulldogs won a state title in 2001, Leroy Bracey Jr.'s father was a starting linebacker on the team.
His three rushing touchdowns and 118 yards along with a defense which limited 1,000-plus yard rusher Colton Mason to a season-low 82 yards has Camden in the Class 3A title game.
Special teams put the Bulldogs on the board. James Crim blocked the punt attempt and returned it into the endzone for a touchdown.
Bracey scored the first of his three touchdowns on the next possession from 12 yards. The failed two-point conversion kept the score at 13-0.
Bracey's two-yard touchdown run extended the lead to 19-0 in the first quarter.
Gilbert finally got on the board on quarterback Izayah Whiteside's 44-yard touchdown run down the visiting sidelines. The PAT made it 19-7 with 10:24 left in the second quarter.
Whiteside finished 9-21 for 89 passing yards and rushed for 33 yards.
It was the only score of the night for the Indians. Peterson scored on a 14-yard touchdown run and the Bulldogs converted the two-point conversion with 3:51 left in the first half and Van Blank connected on a 36-yard field goal as time expired to make it 30-7.
Camden dominated the second half with touchdown runs by Bracey, "Mr. South Carolina Football" finalist Willie Jones and scoring passes by Pearson and backup Cauthen Best.
Gilbert ended the season 8-1, while Camden (8-0) will face Daniel in the Class 3A title game Saturday at 3:30 p.m. at Harry Parone Stadium on the campus of Spring Valley High School. Daniel defeated Wren in the Upper State final.
Abbeville 28, Gray Collegiate 10
The War Eagles were the third team this season to hold a lead over the Class 2A top-ranked Panthers.
Down 10-7 after a five-yard touchdown run by KZ Adams, who rushed for 155 yards, Abbeville turned to trickery to take control of the game.
Ty'rell Haddon took the handoff, then threw a 64-yard bomb to Antonio Harrison with 1:24 left in the half to put Abbeville up for good.
"Not much. Not much at all," Haddon told the Index Journal after the game about how often he's passed the ball.
"We said 'I put my trust in you," Harrison said. "So he threw the ball and I caught the ball."
Penalties (12 for 130 yards) and missed opportunities hurt the War Eagles in the second half. Haddon scored again on a touchdown pass from Thomas Beauford and Seth Griffith recovered a blocked punt and returned it for a touchdown.
Tre Robinson threw for 165 yards for the War Eagles, who ended the season 8-1. The Panthers (9-0) will seek their 11th state title against Marion at 5 p.m. at Harry Parone Stadium.
Marion defeated Andrews 36-33 in the Class 2A Lower State final.