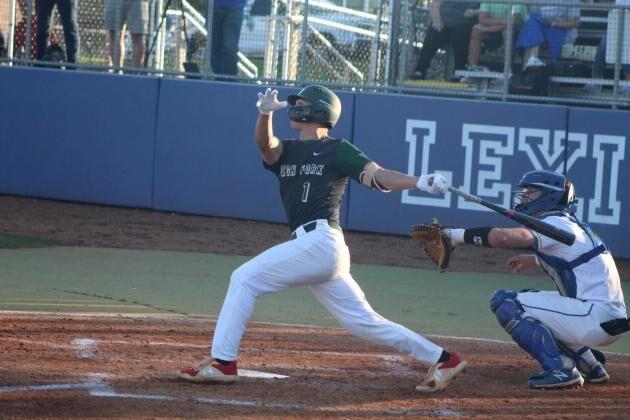 Pondering a future between college and possibly Major League Baseball are on Will Taylor's back burner for now.
The primary focus of the Clemson University baseball and football signee is leading a Dutch Fork program to a second state title during his senior year.
Taylor helped the Silver Foxes' baseball team Thursday take a first step in that direction. He belted two home runs as Dutch Fork rallied from an early deficit to defeat Lexington 10-6 on the road and claim the Region 5-5A title.
Taylor finished with four RBI and threw a scoreless final inning of relief for the Silver Foxes (15-4, 9-2). They will open the Class 5A playoffs at home May 15 against Ashley Ridge, while Lexington (16-5, 8-3) travels to Summerville.
Dutch Fork seeks to win its second state baseball title in three years. In the case of Taylor, who led the football team to its state-record fifth consecutive championship back in December, it's an opportunity to put himself in rare company in school lore.
"It's special," said Taylor, who ESPN has projected as going as high as 19th overall in the first round of the MLB draft in July. "The only other guy I know to do that is (former Dutch Fork quarterback and Clemson University freshman pitcher) Ty Olenchuk. Hopefully, I can do it and it takes a team to do it. One man can't do it. We've got a pretty good, special squad this year. So hopefully, we can put together a special run in the playoffs and have some fun."
Early in the contest, it was the Wildcats and Ryan Toll who were enjoying themselves. Toll put Lexington on the board after Wells Sykes was picked off first following a leadoff single with a homerun over the centerfield wall off Dutch Fork's Jay Metts.
Cooper French doubled to lead off the second inning and Blake Martin followed with a walk. French eventually scored off wild pitches from Cole Long and Martin scored on Hayden French's RBI single to put the Silver Foxes up 2-1.
Friend finished with a team-high three hits.
Lexington scored four runs in the bottom second after loading the bases. Sykes had an RBI sacrifice fly and Toll crushed his second home run over the centerfield wall to bring home three more runners for Lexington.
Taylor answered back for Lexington with a leadoff solo home run near the same area as Toll to make it 5-3. In the top fourth and baserunners on first and second, Taylor matched Toll with a three-run homer of his own off University of South Carolina commit Reese Marcum to put the Silver Foxes ahead 6-5.
Lexington tied the game at 6-6 in the fourth as Sykes scored off an error during a double steal with Nathan Hall.
Dutch Fork broke the game open in the top sixth. With the bases loaded, French forced in a run after he was hit by Marcum. Taylor scored on a passed ball and Martin blooped a two-run single into leftfield.
Lexington looked to threatened in the bottom sixth after Hall's two-out double. On a 1-2 pitch, Metts appeared to have hit Blake Knight with a pitch. Instead, the homeplate umpire ruled it as strike three as he ruled Knight did not attempt to avoid the ball.
Taylor took the mound in the bottom seventh. He retired the first two batters and, after allowing a Brantley Stroud single, got Long to fly out to end the game and start the celebration.
"Definitely a playoff atmosphere," Dutch Fork head coach Casey Waites said. "Two quality teams. I did not expect a 10-6 game with all this good pitching on both sides. I'm kind of speechless. I mean it's a playoff game, playoff fans, playoff opponent. We refuse to lose."